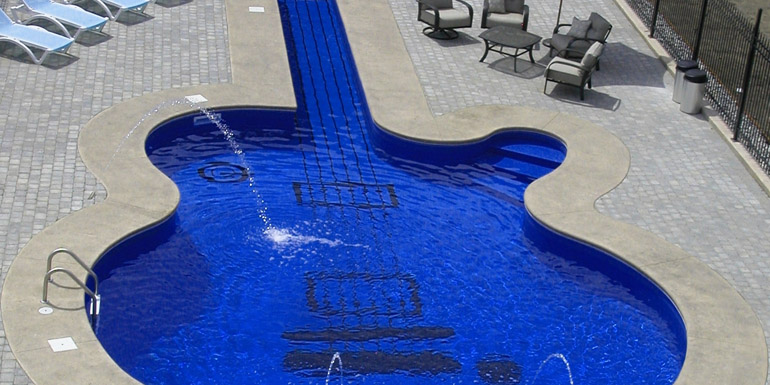 By Bill Wiley
For much of their history, steel swimming pool kits were manufactured like cookie cutters. Manufacturers would typically offer a few different shapes—square, rectangle, oval, or octagonal—in a couple of different sizes, with a handful of choices for steps. The homeowner simply picked one from a book and that was that. Without the advantage of today's technology, each steel panel had to be cut and bent by hand as manufacturers simply did not have the staff to complete all of the labour-intensive customization.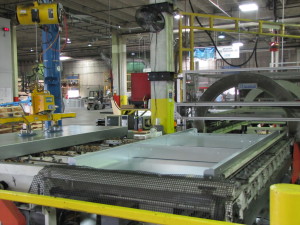 Today, it is a whole different world for steel pool manufacturers, thanks to two technological breakthroughs. The first was the advent of computer-aided design (CAD) software approximately 20 years ago. It allows design engineers to configure steel pools with custom panels and supports on a computer screen and instantly confirm whether the resulting design meets building specifications. This made it easy to provide homeowners with a steel pool in virtually any shape or size they could imagine.
The second, more recent, breakthrough was computer numerical control (CNC) manufacturing equipment. This technology, which solved the labour barrier in producing custom shaped and sized steel panels, was introduced to the pool industry about a decade ago. Now, manufacturing equipment can translate the CAD design to actual product by automatically punching out, cutting and bending steel panels to meet precise measurements.
Essentially, what this means is every steel pool is a custom job, with each panel fabricated exactly to design. The huge advantage for the dealer is they can offer their customer virtually endless design possibilities and options in a cost-effective manner. Multiple radiuses in any size, ornate steps, sun ledges, wading pools, radius steps, full length benches—anything that can be done in a gunite pool design is now available in a steel pool kit.
Steel installation advantages
Steel pool kits also offer several advantages in the installation process. First, steel panels are exceptionally rigid; therefore, the installer does not need to worry about keeping the pool walls straight and true, because the steel walls hold their shape. Further, as steel panels come in 2.4 m (8 ft) lengths, there are fewer seams, so they tend to be quicker to build.
While steel wall pools require less deck support than other pool types, it is still important to ensure sufficient bracing to support the concrete deck. Braces every 1.2 m (4 ft), including a brace at the centre of each 2.4-m (8-ft) panel are recommended. There is a higher chance for the deck to crack if supports are only used at the ends of the panels.
Improved durability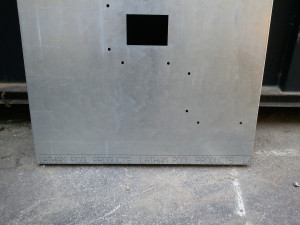 There are several reasons why today's steel pools will last longer as well. First, the quality of installation has generally improved as most installers are better trained and are using better building techniques.
Corrosion is another issue with respect to the steel's durability. It becomes even more of an issue with saltwater-based pool systems. To overcome this, most installers are applying approximately 3.1 mm (0.124 in.) of wall foam to the steel panels prior to installing the vinyl liner. This protects the liner from any damage caused by steel corrosion.
Some manufacturers have implemented a number of additional design innovations to further ease installation and improve durability. One such innovation is additional support under the skimmer, so that it remains rigid during installation. In addition, skimmers now typically go through the pool wall, instead of behind it. This method seals off the steel panel from potential water damage. Steel braces are also being used for ladder and handrail sockets, which further improve support.
Another key improvement is a triple bend on the top of some steel panels. This enables the top of the panels to turn underneath for greater rigidity and reduction of potential deflection during installation. This is especially important with the increased use of cantilever decking and automatic covers, where walls have to be straight and true.
One manufacturer has even added a pool base finish line to their steel panels. Marked at 51 mm (2 in.) from the bottom of the panel, this shows the installer where the base should finish on the bottom of the pool. This finish line assists the installer and makes their job easier and more precise.
Installation basics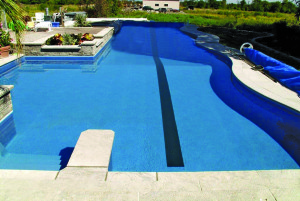 The installation process for steel pool kits has not fundamentally changed over the years. However, it is important to understand that it is the installer's responsibility to ensure all building codes, swimming pool regulations, and regional requirements are adhered to and only approved products and building materials are used, and the specific instructions from the manufacturer are always followed.
Installation is typically a six-day process, but can vary based on weather and local building code requirements. Of course, prior to beginning there are a number of preliminary considerations. All building codes must be acquired and all necessary utilities (e.g. water, electrical, sewer [drainage], and heater fuel [if applicable]) must be obtained. A proper site for the pool must also be identified. This means a site without obstructions that has proper orientation to sun, shade, and other structures, and most importantly, a proper grade for drainage.