'There's an App for that'
That's right, there is an 'App' for the remote control of pools and hot tubs, which intrigued Aqua-Tech's customer, says Urmos.
The free App can be downloaded from the Apple App Store by anyone with an iPhone/iPod touch and when combined with the IntelliTouch® and ScreenLogic® control system, developed by Pentair Water Pool and Spa, it offers several functions for pool and hot tub automation.
Initially, Urmos' first customer to use the App was mainly interested in the ability to control his pool's temperature and lighting. However, in addition to these functions, from the 'circuits' page, they could also control water flow to the waterfall and slide.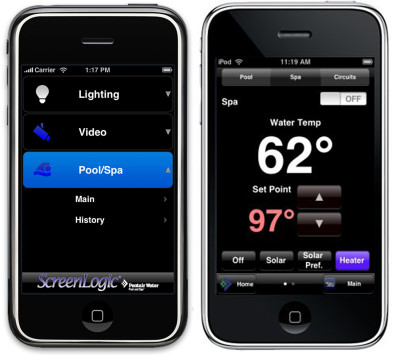 The App's temperature control features allows the customer to turn the pump on and off to trigger heating functions and is compatible with gas/propane heaters and solar heating systems. The App can also be programmed to run a solar heating system on its own and if the demand for heat cannot be achieved, it will automatically switch over to the faster-acting gas heater to bring the water temperature up to the desired setting.
The App's 'history' page is important for those concerned with energy conservation and cost savings, as it provides several energy management functions. For example, Urmos' customer can review the pool, hot tub and air temperatures graphed over a period of time. They can look at data for a specific day, week or even month. It also provides the run-time data for the pool pump, lighting and solar systems. These data points tell the customer, for example, the percentage of time their heater was running, allowing them to evaluate and adjust run times if the pool equipment is operating longer than necessary.
This is considered the "Prius factor," says Joe Lautner, vice-president of marketing for Home Logic, a company Pentair partnered with to develop high-end automation systems.
For example, the Prius and other similar hybrid cars offer a live display (on the dash) to show how speed affects mileage, which in turn help driver's adjust their driving behaviour to save gas and energy," says Lautner.
Similarly, the App allows homeowners to see where and when the most energy is being used. It provides data in an accessible format for monitoring and allows usage habits to be easily adjusted to maximize energy savings. The ability to access and simply modify the schedule is the beauty of the marriage between pool automation, remote control capabilities and the explosion of wireless Internet access.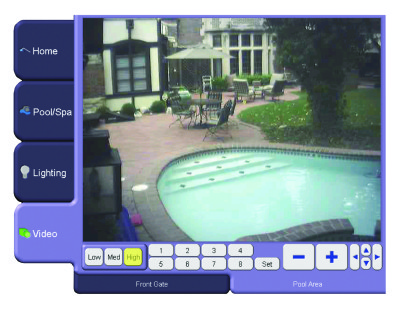 Urmos says his customer may someday appreciate the history functions the App offers, however, his pool was completed late last summer (August 2009) and in Manitoba's short swimming season, he really did not have much history to track.
"He was very keen on having the ability to control pretty much everything in his pool environment with a slick handheld device, especially because the equipment is located on one side of the house and the pool on the other," says Urmos.
"For him, it was all about convenience. The ability to control everything wherever he was. And, when he's not using his iPod, he can also access his pool functions from a laptop computer or a wall-mounted control pad in his sunroom."
This type of automation and control can also make maintenance a lot easier, too. For example, should salt or chlorine levels drop, the system can automatically send an e-mail alert to the pool owner or service company to add (or buy/deliver) more salt.