By Mitch Smith
The end of the calendar year presents us with many opposites; much of the northern world is cold outside, but the holidays are heartwarming; schools and some businesses take a break, while others ramp up into high gear.
For a pool business, the off-season may be a time to take stock, literally and figuratively, of both inventory and business philosophy.
If selling swimming pools is the store's primary business, the winter months are probably slower than spring (opening season), summer (swimming season) and early fall (closing season). In most of North America, the off-season is at least half the year—October through April—maybe longer. Unless a store also offers counter seasonal products (e.g. spas, billiards, etc.) serious thought should be given by owners as to why a customer would need to enter their store in December.
For example, a customer may come in looking to replace a storm-damaged winter cover, or for a replacement part for a pool cleaner that is showing signs of wear. In these cases, the customer usually waits at the front counter while a staff member searches the back room for what they need. At this point, the question every swimming pool retail store owner should ask themselves is, "What will entice them to look around?"
Drawing attention to profits
Accessories can be a great aftermarket profit centre, especially during the pool industry's off-season, which coincidentally is also high season for holiday gift giving.
Fireworks or loud noises are not needed to catch the customer's attention; something as simple as colour changing lights can do the trick.
Think of all the eye-catching products today that use flashing light emitting diodes (LEDs). For instance, accessories such as floating disco balls are great when displayed in a retail environment—not only for drawing attention, but getting the customer to think about buying something other than what originally motivated the trip to the pool store. The key to this type of accessory is that it can be used during any season—indoors/outdoors, in the pool, or on the deck. The following are some additional ideas for maximizing profit potential in the off-season.
Think 'counter-season' not 'off-season'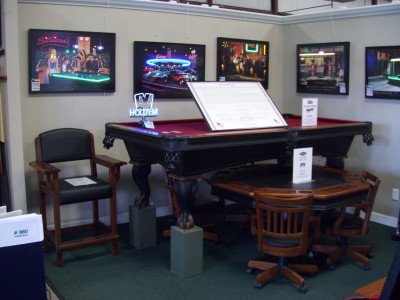 A true 'off-season' for a swimming pool retail store means experiencing off sales, closing the store during the winter months and laying off seasonal staff. For some this is the intended business model, as they like, and have the luxury of taking a long vacation during the winter. However, for those who are primarily in the pool business and are aiming to maintain a steady year-round income, the time of year when pools are being closed should be thought of as the 'counter-season,' not the 'off-season.' As such, finding counter-seasonal items that will sell well when people are not swimming in their pools is important.
One obvious category during the holiday season is Christmas trees. This is an entire product category that will not only bring customers into a store, but give them something to purchase that is relevant to the season. As such, a holiday tree display can be used to show fun, shiny pool or spa related items (e.g. lighting and toys), which can serve as tree ornaments. A customer may discover an item because it is in a Christmas display; however, it can also be used poolside in the summer.
Many pool companies approach the counter-season with big-ticket items that can be used in cold climates or indoors, such as spas, billiard tables, wood stoves and rec room furniture. These items have a lot in common with their summer counterpart—swimming pools. First, they enable families to spend more time having fun together at home—a 'staycation' for the winter—and their use and enjoyment can be greatly enhanced with accessories. Also, the approach to marketing and selling counter seasonal items is quite similar to swimming pools because they are not a household necessity.