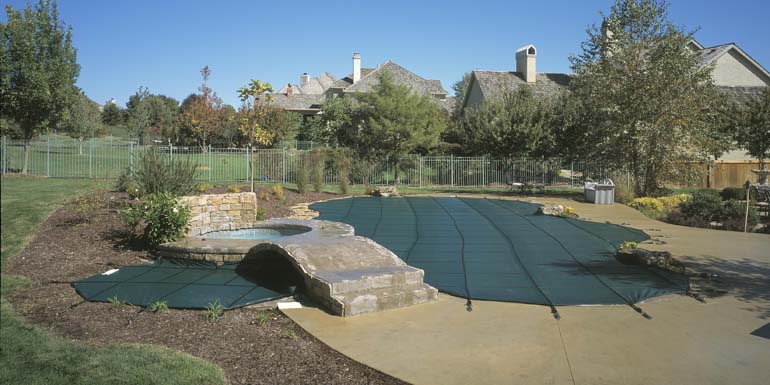 By J. Kevin Shea
Today's swimming pools are beautiful—adorned with raised spas, waterfalls and vanishing edges, not to mention exotic caves and bridges. However, as intricate as these may be, at the end of the swimming season, pool professionals are left with the challenging task of measuring and installing safety covers to keep these outdoor environments safe and free of debris, not to mention esthetically pleasing in the backyard.
Safety cover manufacturers are like tailors and fabricating them can be likened to making a suit—with the proper measurements a safety cover can be designed to look and fit great on any pool.
There are many challenges to measuring and installing safety covers on complicated poolscapes, but pool professionals can succeed by following some simple rules and 'tricks of the trade' used by seasoned installers.
Measuring: It's all in the details
Measuring the pool and surrounding obstacles is the primary concern when measuring for a safety cover—especially on a pool that has never had one.
Installers must provide the safety cover manufacturer with a detailed description and accurate measurements of the pool's perimeter. Before providing the manufacturer with any dimensions, the installer must first check to make sure the pool is 'square,' as this could affect the cover's design (e.g. strap placement) and proper fit.
If the safety cover is for a vinyl pool where the liner was recently replaced, the installer is already one step ahead, as the perimeter measurements should already be on file.
Measure the perimeter
Measuring the perimeter of a pool is a fairly simple process for rectangle, Grecian and oval-shaped pools. However, when dealing with kidney-shaped or freeform pools, a surveying technique called 'triangulation' should be employed to obtain perimeter dimensions. With this technique, the area is divided into triangles (one being the baseline) to determine the distance between any two points.
It is also a good idea to use the manufacturer's safety cover measurement forms and have them on hand at the project site. This helps ensure all the necessary measurements are recorded and eliminates the need to return to the job site because a key measurement was missed.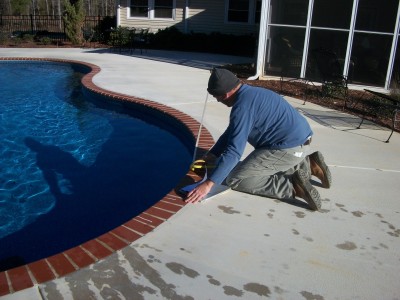 Before recording the 'A-B' triangulation measurements, be sure both points are exact. If they are off even by 25 mm (1 in.), every measurement in the project will be inaccurate. To avoid this, use well-secured surveying stakes when taking measurements.
"Not only do the plotting pins have to remain secure while you are measuring, they need to remain secure until you have the cover installed," explains Jeff Knapp from the Pool Doctor in Anniston, Ala., who returns to the job site at least once after providing the initial measurements to the safety cover manufacturer.
"I plan this into my pricing," he says. "But this makes it all the more important that my stakes are still perfectly secured and my numbered points are still visible, as it allows me to check the measurements I originally provided."
Knapp uses street chalk to make sure his numbered points can be checked later on.
"I use the type (chalk) kids use; it's perfect for numbering all of the points around the pool when taking dimensions."
Gary Tripp from Tripp Construction in Raymore, Mo., agrees, but has found he measures for safety covers on a lot of decks that are too nice to mark up.
"I get nervous when labelling my points on expensive stone that might be easily stained, so I keep blue painter's tape in my bag of measuring tools," he says. Tripp labels each point on the tape and leaves it in place so he can refer to the points even when installing the cover.