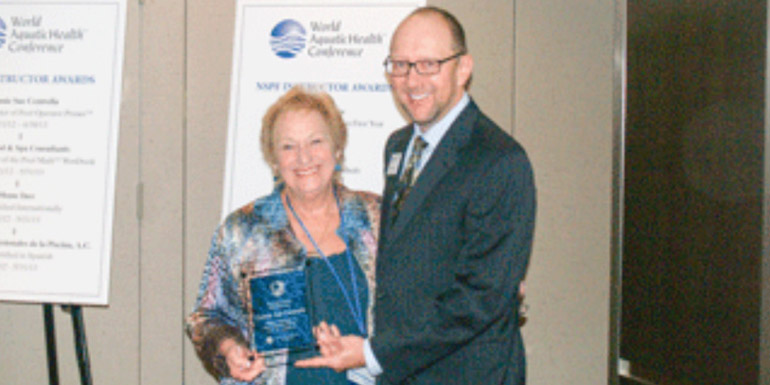 Connie Centrella of Connie Centrella Consulting LLC in Nashville, Tenn., and regular contributor to Pool & Spa Marketing, was one of nine instructors who were recently recognized by the National Swimming Pool Foundation (NSPF) with an award for exceptional performance during the annual instructor meeting held prior to the World Aquatic Health™ Conference in Indianapolis, Ind.Centrella, who has been an NSPF instructor since 1982, was recognized as the greatest supporter of the Pool Operator Primer™ online program.
"Being an instructor gives me a sense of accomplishment," said Centrella in response to receiving her award. "I feel I am making a difference.
"My involvement with the NSPF instructor education committee gives me the ability to reach out to new instructors, raising the awareness of the value of sharing knowledge with others."
Other award recipients included Robert R. Freligh of Nationwide Aquatic Consulting in Chestertown, NY, who has certified the most individuals ever by an NSPF instructor. He has been teaching and certifying pool professionals through the Certified Pool/Spa Operator® (CPO®) certification program since 1995. As a first-year instructor, Taylor White of Langley and Taylor Pool Corp., in Nashville, Tenn., was recognized for setting the record for the number of students who earned CPO® certification through his classes. Scott Ford of Tropical Aquatics Pool Education in Dunedin, Fla., received an award for teaching and certifying the most number of pool professionals during the year. Phil Reynolds, Steve Lintz, and Michael Freeman of Swim Pool & Spa Consultants in Reno, Nev., received an award in the Pool Math™ Workbook category. They set a record for the number of students who have purchased and used the workbook as an educational tool for those struggling with math. Shane Anthony Ince of Aquatics Information in South Australia was recognized for his dedication to pool operator training having certified the most individuals through the CPO certification program outside of the United States. Finally, Humberto Abaroa-Lance, director of education for the Asociacion de Profesionales de la Piscina, A.C., in Mexico City, Mexico, and a member of the NSPF instructor education committee, accepted an award on behalf of his association for the most certified with the Spanish CPO certification program.
"We are proud to recognize these nine individuals who take their role seriously and embody the characteristics that make an exceptional educator," said Fontaine Piper, chair of the NSPF education committee. "The committee encourages each instructor to become a role model for those entering the field as well as those currently working in the industry."
Studies cited in the Model Aquatic Health Code (MAHC) reinforce that minimum training helps operators prevent health code violations. Further, there is a poor track record for complying with public health codes, according to a recent study by the Centers for Disease Control & Prevention (CDC).
"For these reasons the NSPF is dedicated to growing its instructor base to educate more pool and spa operators helping protect millions of swimmers by reducing hazards at aquatic facilities and residential pools," said NSPF CEO Thomas M. Lachocki, PhD.