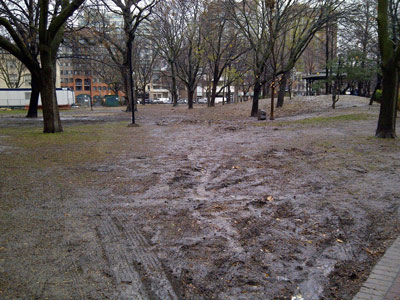 An army of volunteers from Landscape Ontario, the Nursery Sod Growers Association (NSGA) of Ontario and Project EverGreen were recently on hand at St. James Park in Toronto to help lay new sod to replace the turf that was severely damaged during Occupy Toronto.
"A huge volunteer effort took place here," said Tony DiGiovanni, executive director of Landscape Ontario. "The project comprised more than 10,000 rolls of sod, at least 23 dump trucks of soil and an incredible number of people being very charitable."
Restoring the lawn at St. James Park was an effort on par with planting a forest of trees when it comes to cleaning air in the city and creating a healthy environment. For example, 20.4 m2 (220 sf) of turfgrass produces enough oxygen for a family of four; restoring the grass in St. James Park will produce enough clean air for 545 families.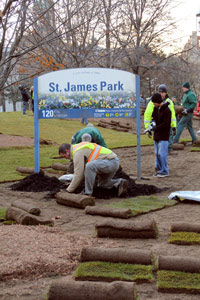 "A green and healthy lawn is just as important as a tree," says Kyle Tobin, owner of LawnSavers Plant Health Care and a manager of the St. James Park project.
Another manager of the project, Alan White, owner of Turf Systems said, "When you consider the immense environmental benefits of turf, the revitalization of St. James Park will make a huge impact. A new lawn in the park will have the equivalent impact of producing enough clean air for 2,180 people each day."