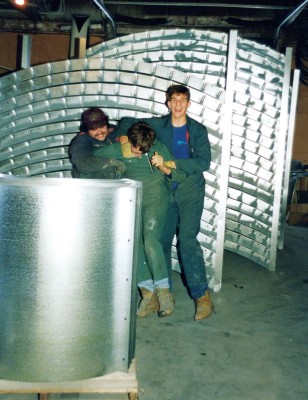 PSM: Do you face a lot of competition in the industry? If so, how have you differentiated the company from competitors?
Jewell: Every business faces competition; it keeps them healthy. We are flattered when big 'corporate-American' competitors try to emulate us. When these companies are on our heels, it forces us to push on and stay ahead. We are proud to be one of the few small Canadian-owned and operated companies that still values quality products and not compromising on materials.
Our fast turnaround and response to our customers' needs is probably one of our biggest assets. When a customer needs a steel kit or liner delivered the next day, we can usually accommodate.
The market for our product has been good over the past five years. The strong housing industry, low interest rates, and good summer weather have helped the industry in general. Our business has seen nothing but growth since the start.
PSM: How do you promote your business?
Jewell: Traditionally, Highbury Pools has always grown through word of mouth. However, we also participate regularly in pool/spa trade shows and advertise in industry magazines. Currently, we are working on a direct-consumer marketing initiative to help our dealer network compete. We are also continually expanding our line of tools to help set our dealers apart from their competitors.
PSM: Do you intend to expand your business in the next few years?
Jewell: We are young and ambitious and are constantly looking into new innovations to help grow and promote our company within the industry. We are also looking at new product lines to expand the business.
PSM: What are the major contributors to your company's success?
Jewell: Our staff. Everyone is close and isn't afraid to discuss any issues so they can be cleared up quickly. We have a lot of fun here. Fun helps make the work environment pleasurable, which trickles down to the staff who takes pride in our products and services. This leads to our frontline advantages of quick turnaround time, and product quality.
We also know our customer's individual preferences. We are small enough to care and truly value all of our dealers, yet large enough to service them in a very timely fashion.