Design as a tool
Today, there are fewer contractor vehicles with receipts stuffed between the dashboard and windshield. Are more contractors becoming clean freaks? Perhaps, but in actuality more are recognizing the importance of being organized and have found efficiency in tracking their accounts receivables and accounts payables.
Following this logic, should projects be constructed upon the whim of experience and skilled judgment, or rather the reference of documentation and scheduling? Maybe both; however, using a design document as a tool, not only in its graphic presentation of the idea but also its ability to reference scheduling of plant material and material quantities (e.g. paving, soil, face feet of wall, and veneer) has many benefits.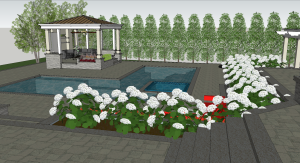 Further, integrated 3-D technology in computer-aided design (CAD) software provides cut/fill calculations, and designed drainage. It also presents exact design ideas that are efficient and flexible to change. Most contractors understand the value of this efficiency when cost of fuel and dumping fill charges escalate or a hand-drawn design concept did not include the retaining wall as a measure of controlling grade change around the pool.
When using design tools such as 3-D modelling products, designers are able to offer their clients a virtual, realistic walkthrough of a complete landscape project. It has all but eliminated initial questions in the minds of clients such as 'What will this look like exactly?' and 'Will there be enough room for this?' These questions can amount to a great deal of time through explanation.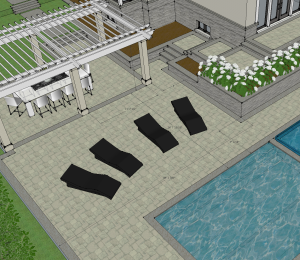 Upon offering a virtual realistic experience, the 3-D imaging tool can provide dimensioning information when drawn in scale to assist with the exact positioning of planned structures for future development. These software programs are becoming more popular as extensions of other CAD software programs that can provide up-to-date budgeting information, which changes with the design.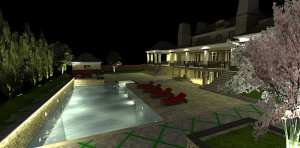 More pool builders now offer 3-D design as an extension of their services to market a vision, even if the project is limited to a pool installation, which proves consumer confidence goes a long way. How can these contractors afford to do this? After many hours are spent explaining to one or two clients where and why a wall will be erected and what it will look like, most contractors will ask themselves, 'How can I not afford this?'
Not all designers are created equal. When chosen carefully, a landscape design/software program should offer the contractor options and flexibility that easily transform a design concept into alternative construction drawings for permit application and quantity takeoff documentation, which allows the contractor to accurately price the project for construction and profitability (e.g. How many square feet of what paving material, how many yards of soil needs to be moved or is required, etc.). Today's technology assists designers by providing them a detailed design drawing with usable and re-useable information that is integral to the success of a constructed project. A detailed design drawing is more than a concept 'cartoon.' As a professional design element, the design becomes inclusive as a contract document and it is relied upon for construction, quotation direction in addition to a point of reference for future work. The design tool is only as good as the content and context that is incorporated by the designer. It is requisite with the consideration of the end user, contractor, design/construction team, and client in mind.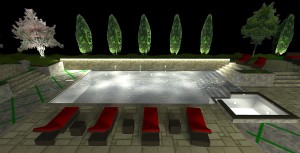 A perfect world would exist if the contractor has produced for a client (and themselves) a design drawing package that includes the following essential information:
Provides, without question, a clear graphic, detailed description of the conceptual and final built landscape environment in 3-D.
Produces a definitive budget tool that coincides with the graphic presentation and flexes with the design as it changes.
Can be used as a permit application layout drawing and offers expansion into grading, lighting, planting, and irrigation plans, etc.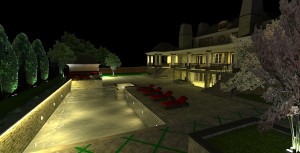 For some, this tool exists but not without cost. However, as long as it does as it proposes, it will surely save, perhaps even make money. The cost of such a tool is not just found in the invoiced amount. It takes time to produce with careful consideration the client's needs as well as consideration of the contractor's resources to execute the work.