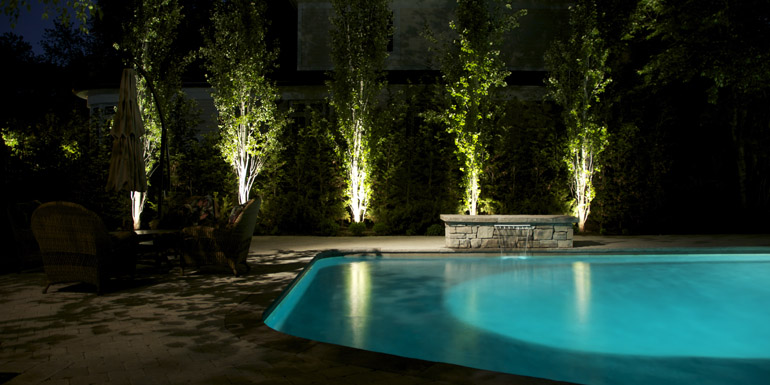 By Gary van Eijk
Many landscape designers receive calls that go something like this: "Hi, we have just put a pool in our backyard and were wondering if you can do a landscape design for us?" The typical response from most landscapers is usually: "Thank you for asking, it sounds like you have already completed the design, I'm not sure if we can help you."
The conversation goes on with the landscaper's explanation that the constructed pool in an average sized backyard has most certainly determined almost everything that goes into the design in terms of additional elements. The elevation of the constructed pool coping has determined the pool perimeter grade elevation as well as the drainage pattern from the top of the pool deck. The pool's size and shape has hard-lined the size and position of the lounge and dining areas, as well as circulation patterns for the rest of the yard, which may determine hazards and safety risks. Patio, deck, and riser sizes have also been relegated as well as the pool equipment location.
Further, depending on the amount of space remaining for positioning planting beds, plant material choices as well as options for additional structures and storage have also been decided. The list goes on.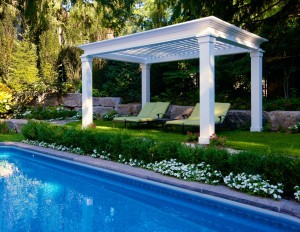 In a situation where a design was not integrated into the pool's installation, the contractor has turned their back on a world of opportunity, including the chance to create a new level of trust with the client by expressing care in positioning the pool, pool equipment, and utilities. The opportunity to show the client a vision that their backyard environment can be transformed into an oasis has also been sacrificed.
Apart from the opportunity to develop good will, the opportunity is lost for contractors to make more money. It cannot be forgotten that the average client who plans a pool installation will often extend a project well past the initial pool installation budget once offered a vision of the complete concept. This not only offers obvious extended revenue opportunities for the contractor but also sends a clear message to the client that the contractor has their best interests in mind. A pool builder that involves or refers their client to a subcontractor or specialist that can execute the construction of the extended design not only extends their service and goodwill to their client, but also helps to reinforce subcontractor relations. Of course, this is not without an increased investment in time (and money) to produce a detailed design. It should also be considered that many landscape and pool contractors currently profess to provide design as added or included services, but have yet to meet a developing status quo by providing clients with descriptive 3-D design presentations.
Design as extension of service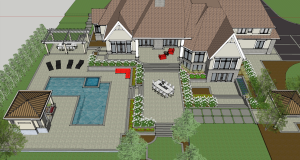 Integrating a landscape design into a pool installation goes far beyond professional and personal preferences in making a landscape 'whole.' It goes deep into the arenas of extending client service with a happy result of higher profitability for everyone; however, it is often wondered why more independent contractors do not provide their clients with a complete landscape design as part of their service. This question comes to mind especially when a design could potentially save the contractor work and expense by integrating it with pool permit drawings and take advantage of the extensive site analysis, as well as layout, and grading information.
Perhaps from a contractor's perspective, one conclusion is the cost of providing a design from a good designer may not initially seem recoverable. Full landscape design fees, including pool permit drawings, can cost between $1,500 to $4,000, which bites into diminishing profit margins for the contractor, especially considering increasing competition and negative economic media reports. Therefore, the question should be asked, is the cost of this information worth the sale of an idea?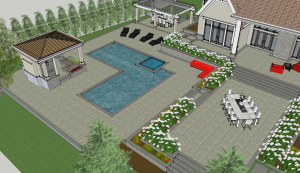 Perhaps offering a design idea leads a contractor into a client relation nightmare. The educated consumer intimidates more contractors by expressing their design and construction education, which has more than likely been gained via the Internet. While there remains excellent advice on selecting materials online, along with creative design ideas on television, the average consumer falls short in understanding the impact of grading, municipal setbacks, and Regional Conservation Authority guidelines, which mandate environmental protection and resource management of water, land, and natural habitats.
Another reason why contractors may not offer professional detailed designs to clients is due to the cost not offsetting the steep learning curve most clients can experience reading 2-D or simple plan drawings. Unfortunately, only after damaging results can the learning process in reading 2-D plans meet with measured success for most people.
For instance, in some situations where clients, if not confronted, might keep secret their inability of understanding the design until the critical point of installation, which could amount to costly results. How can this be resolved? Virtual reality may be the answer.