A new kind of waterfall
Thankfully, there are alternatives to a rock-pile waterfalls. There are a select few true artists who can sculpt concrete into incredible, realistic water features that mimic nature. Some of these artists cast their faux rocks in nature. These specially designed water features look very realistic when combined with plantings, natural pebbles and subtle project design.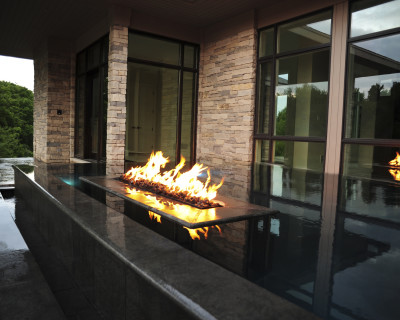 One simple technique to consider is constructing the waterfall so it does not use pool water. A stone water feature can be constructed so that a faux stream of treated pool water actually enters the swimming pool; the bulk of water cascading over the rocks can come from a separate non-chlorinated water source. This allows moss and algae to grow, more closely mimicking nature. Plantings and fish can also be added, even in close proximity to a chlorinated pool.
These types of waterfalls attract butterflies, birds and amphibians. They also have the added advantage of not dumping heat, water or chemicals from the pool, since only a minimal amount of pool water flows from the faux stream.
Designers can also use a stone bridge or similar device to separate the natural water from the pool water, to create the illusion of a continuous flowing water source. Streams and waterfalls can be run any distance from the pool to create a landscape that more closely resembles a natural environment. These types of water features can also be kept running 24 hours a day to create a soothing retreat.
Additionally, variable-drive pumps, combined with proper hydraulics, can result in extremely energy-efficient features. Conversely, traditional rock-pile waterfalls typically require high-horsepower pumps to operate the few hours a month they are used.
Are waterfalls necessary?
Designers have traditionally used fountains, runnels, rills, sheers, spouts and edge treatments to showcase their talents. However, there is a growing trend among designers and architects for clean, sleek, sophisticated designs. A review of top industry awards show a growing number of pools without significant traditional water features (and very few, if any, rock-pile waterfalls).
Overflow pools
Among the common replacement for traditional water features are various types of overflow pools. Overflow type pools can be thought of as a large water feature without the inherent drawbacks. A well-designed and accurately constructed overflow pool can be subtle, visual art, producing a soothing white noise. The natural reflective qualities of perfectly still water, along with the subtle sound of water spilling over the edge, bring a sense of calm to the viewer.
In these types of applications, designers are not trying to mimic nature, only to create an environment conducive for relaxation. A rill or runnel can be part of these sophisticated projects; a faux stream can be used to control energy costs associated with moving water, dumping heat from the pool. The rill can move from inside the home, inviting the viewer outside to the experience the work of art. In addition, a small variable-drive pump combined with exact construction, adequate hydraulics and automation can boost energy efficiency. Advances in automated cover designs allow these types of pools to be both safe and energy-efficient.
Vanishing edge pools
With the right location, accurate construction and proper design, a vanishing edge pool can result in very low flow rates and subtle sounds from a wet wall of water slowly running over the edge of the pool. However, poorly designed and constructed vanishing edge pools share all of the negative characteristics of a rock-pile waterfall, dumping heat, losing water through evaporation and creating thundering noise pollution.
Bigger is not always better. A subtle design will often win over a large cascade of water. If the client insists on going big, be sure to take into account the long-term care and energy costs associated with a large-scale water feature.