Wet walls
Wet walls are subtle water features, commonly found in indoor environments, with similar qualities to overflow pools. These features can be located in or adjacent to the pool, or as a separate feature. Normally built using concrete and tile, they can also be constructed as a stainless steel standalone feature.
Sitting near a wet wall brings a soothing sense of calm and produces pleasant background noise. Variable-drive pumps are ideal for the small amounts of water running over a wet wall. Some systems avoid the problems of maintaining a relatively small body of water by regularly dumping the water and replacing it from a freshwater source. When located indoors, the water quality of wet walls must be carefully maintained in order to prevent the spread of airborne illnesses.
Spouts and sheers
Water spouts and sheers are often found in modern pools and fountains, though large-volume sheers tend to have the same problems as rock-pile waterfalls. The large volume of water cascading into the pool wastes large amounts of heat and water; the amount of noise generated by a large volume sheer is also significant.
Large sheers look great in photos, but are often not used on a regular basis by the client. Designers might be better served by incorporating a number of smaller sheers into their projects. David Tisherman uses this technique frequently in his often-imitated 'Tishways' spilling from spas into the pools below. Smaller sheers dump less heat, produce less noise and require smaller pumps and water volumes. The biggest advantage of sheers is that they look good when they are turned off, blending into the background until the homeowner is ready to use them.
Jets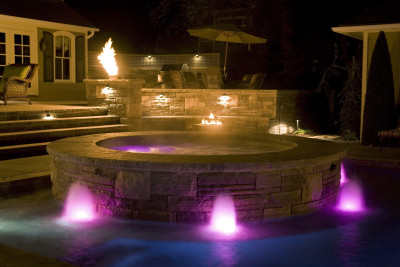 Laminar jets also have the ability to completely blend into the background until springing to life. These water features are anything but subtle. Normally used sparingly by clients, they give the desired 'wow' effect without being an eyesore while turned off.
Foam jets also have the ability to blend into the water feature until turned on. These features look stunning at night when lit from below, but have a tendency to disturb the water surface and create standing waves in a pool. This can be eliminated with proper design and location of the jets in their own spill-over body of water.
Try something new
Constructors and designers of aquatic environments have the ability to provide clients with alternatives to traditional rock-pile water features. Professionals should explore and provide alternatives to the consumer and avoid the temptation to include a water feature in every project. Often the most elegant and beautiful projects are simplistic in design, subtle in creation and stunning in presentation.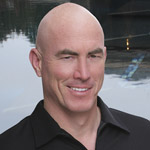 Barry Justus is the owner of Poolscape Inc., a landscape contractor and pool designing and building company based in Burlington, Ont. He can be reached at barry@poolscape.com or by visiting www.poolscape.com.