Fire, light, and water around the pool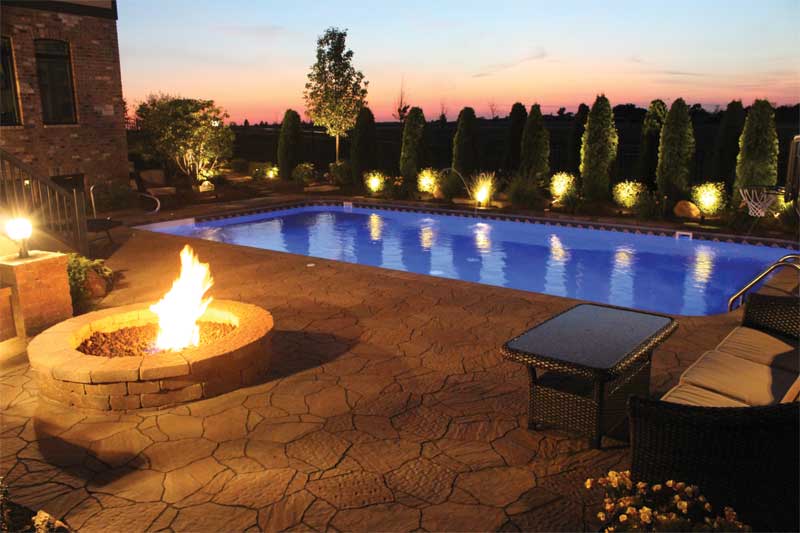 Most will agree presenting fire options as part of a project is essential, but it is important not to go overboard and place them everywhere in the backyard. In most cases, strategically placed fire features—in one or two locations—works best. In fact, placing these features in and around the pool perimeter creates the best nighttime effects—especially when combined with other water and lighting elements.
"We find light-emitting diode (LED) bubblers to be a terrific complement to fire features," says Lenz. "The bubblers offer colour and give the pool a 'fire-like' look within the water so we tend to put a few of them in the shallow end to create a unique light and water effect."
To create a tranquil, resort-like atmosphere in the backyard, water elements should always be illuminated by fire and light.
"We have been adding rock waterfall features on the pools we install for many years and find that incorporating a combination of lighting and fire makes the backyard look spectacular," says MacGillivray. "We use artificial rock waterfalls, grottos, and other water features because they are lightweight—about 10 per cent the weight of real rock—and they provide a consistent finished look, so consumers always get what they were expecting."
By day, the water features provide soothing sounds and terrific play areas for children to climb on, jump from, and sit under. By night, these same water elements create a focal point in the backyard where the rocks and falling water are lit up by fire and lights.
Builders should take the time to rethink the sales presentation to consider daytime and nighttime designs, which include water, fire, and lighting elements. Those that do so will not miss the opportunity to use one of the many product options on the market that can help create a stunning backyard pool project that clients can 
use any time of day.
Bruce Riley is the managing director of RicoRock Inc., makers of cast-concrete rock, including component systems for building caves/grottos, waterfalls, and waterslide products for use in pool applications. Riley focuses on developing new products and managing commercial installations. He built rock-type pools in southern California for 25 years and now uses this experience to design standard waterfall kits for the company. He can be reached via e-mail at bruce@ricorock.com.