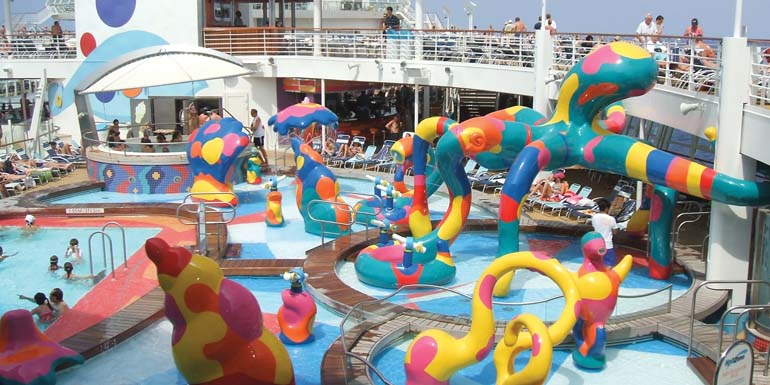 By Connie Sue Centrella
The wide acceptance of aquatic play features and interactive water designs is dramatically changing the science of disinfection. While these imaginative, family-friendly environments have captured the excitement of thousands of people across North America, they have also created new challenges for facility managers, requiring an added measure for bather protection.
Recreational water illnesses (RWIs) represent the number-one health challenge associated with these features. RWIs are disease-causing germs, such as Cryptosporidium (Crypto) and Giardia, which are introduced into the water environment by users due to lack of bather cleanliness. Crypto, a parasite spread by diarrhea from infected humans (or other mammals), is highly resistant to chlorine disinfectants commonly used in public swimming pools.
Another layer of protection
An overview of supplemental disinfection systems (SDSs), including ultraviolet (UV) and ozone technology, was presented in the April 2010 issue of Pool & Spa Marketing.  Each of these methods provides an effective second layer of protection for treatment in pool and spas; both have been accepted as leading technologies that can combat Crypto. This article will discuss UV disinfection specifically for aquatic play features; a future article will study the value and benefit of ozone for these environments.
Water chemistry parameters in aquatic play features require attention to bather loads, as well as the unique considerations associated with these attractions. For example, interactive play features, such as misters, sprays, water jets and sprinklers, need adequate hydraulics to maintain circulation. They also demand higher sanitizer levels to keep the water free of dangerous germs. It may be impossible to assure adequate disinfection with traditional sanitization; thus the introduction of SDSs.
Research has shown chlorine cannot kill as efficiently or effectively in these interactive environments. The Centers for Disease Control's (CDC's) Model Aquatic Health Code (MAHC) endorses and highlights the importance of SDSs and proposes the use of UV and ozone as accepted supplemental technologies for commercial pool environments. Recommendations and rationale of the MAHC will be presented by members of the steering committee at the 2010 World Aquatic Health Conference (WAHC) in Colorado Springs, Colo., on October 7.
Ernest R. Blatchley, PhD and his research team at Purdue University's School of Civil Engineering have presented scientific findings at the WAHC describing their extensive research that explores UV technology and disinfection byproducts. In his presentations at the 2007 WAHC, Blatchley discussed the effect of UV photodegradation of inorganic chloramines (monochloramine, dichloramine and trichloramine). These disinfection byproducts create irritants to mucous membranes, causing eye irritation and upper respiratory tract infections. The research, funded by the National Swimming Pool Foundation (NSPF), determined UV effectively degrades and improves water quality and bather comfort. The emission spectrum of the UV lamp is effective in the breakdown of chloramines.