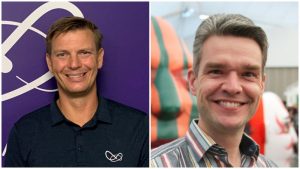 Industry veteran Frank Good is assuming the position of vice-president, business development at Vantage, WhiteWater's technology unit.
Backed by WhiteWater's 40 years of experience in the water and theme park space, Vantage is an advanced software platform accelerating the digital transformation of the leisure industry.
Good has worked with top brands in the amusement, cultural institution, zoo, aquarium, and ski markets to improve their guest experience as well as drive new outcomes for revenue and brand metrics.
"It is rare to find a person with Frank's experience bringing disruptive technologies to the industry. We are excited to add him to the team and deliver our innovative solution to market," said Philip Edgell, president of Vantage.
Attractions veteran Domingo Vergoossen is taking the role of vice-president, global business development in WhiteWater's water rides division.
While well-known for water slides, WhiteWater has also been involved in the design, manufacturing, and refurbishment of water rides for a decade, offering attractions such as Log Flume, Shoot the Chute, and the International Association of Amusement Parks and Attractions (IAAPA) Brass Ring award-winning Spinning Rapids Ride.
Vergoossen's experience in water ride design and projects spans more than 15 years. He began as a designer at Vekoma Amusement Rides and then was charged with establishing its first manufacturing facility in China's Guangdong province in 2004. Vergoossen was instrumental in setting up the FlyOver theatre in Vancouver and was part of the development team that brought the attraction to other cities. Vergoossen has previously worked with the brand on several projects, with a sharp focus on client needs.
"We are honoured to welcome Domingo. His depth of expertise will be extremely valuable to help our clients realize their goals, while his breadth of knowledge will help the team see the whole picture," said WhiteWater president Paul Chutter.