The filter
Hollandia also installed a larger DE filter sized to match the pool's upgraded flow rate, which provides a four-hour turnover. By integrating a DE filter system into the pump room, the facility was also able to realize savings in water usage from cleaning as well as longer filter cycles.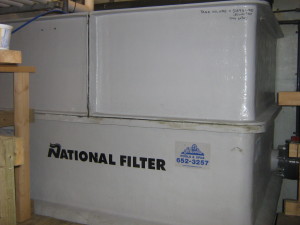 The DE filtration system is central to reducing water consumption—not just water, but heated and treated water—which is expensive to replace. The filtration system requires only a quick, low-flow power washing every two to three months, whereas a traditional sand filter would use considerable amounts of heated and treated pool water for backwashing. This is usually a weekly occurrence, representing a backwash cycle of eight to 10 minutes, which represents eight to 10 times the flow rate per occurrence in comparison to a DE filter.
Not only are water prices on the rise, but the MOH also requires each commercial facility use a ratio of 20 L (5.2 gal) of makeup water per bather per day. Therefore, a typical aquatic facility, such as this YMCA swimming pool, can have in excess of 150 bathers per day, which would equate to more than 3,000 L (793 gal) of makeup water. When combined with a typical sand filtration system, this can become quite costly. Updating the filter and integrating it into the pump room provides some immediate savings with respect to water bills alone.
The controller
It is important for aquatic facility operators to realize poor water quality can lead to poor air quality. Poor air quality can be a combination of improperly maintained water chemistry, an insufficient filtration system, and a non-functioning air-handling system. These are the typical reasons why chlorine molecules in pool water lose the battle against bacteria and give way to chloramines (NH2Cl), filling the indoor pool environment with bad-smelling, eye-irritating air.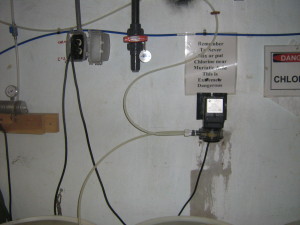 If there is an insufficient supply of free available chlorine (FAC) to the pool, the existing chlorine combines with whatever waste is in the water to create chloramines. This process produces off-gassing, which is released into the air at the surface of the pool. It can also become trapped in the moisture that is evaporating to create a toxic soup in and around an indoor aquatic facility. Not only is this gas hazardous to the health of swimmers (and all people in the aquatic environment) it can also quickly corrode a facility's dehumidification system(s).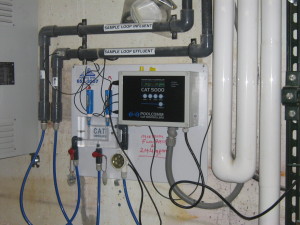 Therefore, as part of the total integration of the pump room, the installation of an automatic controller is paramount. By monitoring and treating water 24-7, facilities avoid excess use of chemicals caused by high-and-low chemical levels and dosing. Further, by ensuring proper chemical balance and treatment, the facility will also benefit, indirectly, from better air quality.
In fact, the MOH and Ontario building code require the installation of an automated chemical controller that will dispense chemicals as needed to ensure chlorine does its job and does not turn into chloramines.
In this regard, a controller was installed for the YMCA facility to provide automated control of the pool's pH and oxidation reduction potential (ORP) levels, which help to stabilize the water and reduce the over consumption of chemicals.