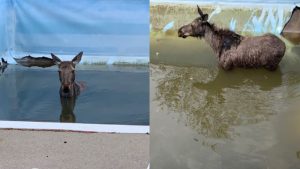 Firefighters and Ministry of Natural Resources and Forestry (MNR) staff in northern Ontario were able to free a moose who found herself stuck in a residential pool in Sudbury.
As reported by the CBC, the young female moose ended up in the backyard of local resident Kelsey Heikkila.
Heikkila said during an interview that according to her neighbour, it appeared the moose had jumped her fence and landed in the pool after fleeing from a car that was chasing it.
"She was big enough that she could keep her head above water and there was maybe 5 ft [1.5 m] of water. Her neck and her head were still out," Heikkila said.
Firefighters, MNR staff, and police officers soon arrived on the scene.
According to Heikkila, they needed to formulate a plan to safely remove the moose while keeping the animal calm.
After the moose was tranquilized, she was lifted out of the pool. After being checked for injuries, the young animal was released back into the wild later that evening. The entire rescue took about four and a half hours.
Heikkila told the CBC her pool sustained considerable damage, with the "liner ripped to shreds."