Options for moulded acrylic or fibreglass composite units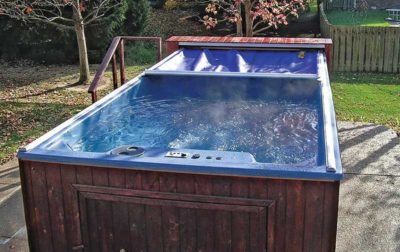 Moulded acrylic or fibreglass swim spas comprise a one-piece shell that must be installed into the ground or a deck. These models can be equipped with a traditional automatic safety cover or a custom-designed automatic swim spa cover. Usually, if these units are installed with a finished deck that is level with, or slightly below, the swim spa edge, a traditional automatic safety cover will work. The cover track can be placed between the deck and the swim spa shell to provide a hidden look, on the deck if it is flush with the shell, or directly on the shell if it is raised. The motor mechanism and cover can be placed under or on top of the deck depending on the specific design.
Options for self-contained or portable units
Self-contained or portable swim spas—perhaps the most common type—are pre-built at the factory and can be installed on a concrete pad with minimal plumbing and electrical work needed.
Cover options for these types of swim spas range from traditional automatic cover systems (as described earlier) to less expensive manual cover systems that are designed specifically for installation on these units. It all depends on the homeowner's budget and the creativity of the installer.
The first consideration when installing any type of cover on these units is to look for things that might interfere with the track, e.g. controls or pop-up TVs. It is important the track can be placed on each side of the swim spa without covering any of these items. Most portable units have just enough room on their lip to accommodate the track. Cover tracks can be installed to gel-coat finishes using a special adhesive tape as an alternative to using screws. The cover tracks can also be installed on a deck if the homeowner chooses to build one around the unit.
To use an automatic safety cover on a portable unit, a cabinet or other type of housing will need to be built on one end of the swim spa to hold the motor mechanism and cover (when retracted). These housings can be constructed of wood, concrete, or other structural materials. Framework can also be built to hold the mechanism and then finished with a decorative material. If completed in this fashion, a portable swim spa can include a cover with the same benefits of an inground system without the costly installation fees.