Manual cover systems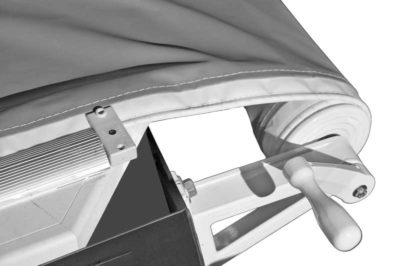 What are the options if an automatic cover is too costly or difficult to install? For homeowners who want to cover their swim spa, especially the portable units mentioned above, but do not want to build housings and pay for an automatic system, a manual cover is an alternative.
Some manufacturers offer manual roll-up covers specifically designed for rectangular portable swim spas that are available as a one-size-fits-all, and are easy to install off the shelf. These covers use a universal mounting system to accommodate tight- and wide-radius corners and have a low-profile wheel system to protect the swim spa's acrylic top. They use a track and vinyl fabric similar to an automatic safety cover, but are operated manually. To open the cover, the user simply cranks a handle to roll it up. To close, the user pulls the cover to the opposite end of the swim spa using a rope. They are available for units measuring 2.3 to 2.6 m (7.5 to 8.5 ft) wide and 2.4 to 5.2 m (8 to 17 ft) long.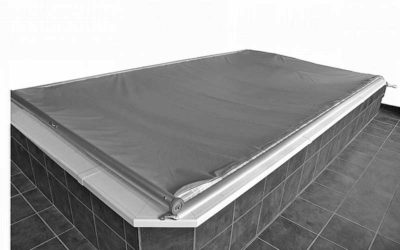 For models that require a custom fit, or those homeowners who would like to select different colours, custom-designed manual systems are also available. These are operated the same way as described above, but are custom made for the homeowner's specific application.
Choosing the right cover
Choosing the right cover can enhance the experience of owning a swim spa and help protect the homeowner's investment. Some may be tempted to skimp on this type of purchase and instead get a tie-down or ridged model, but these do not offer the same convenience as an automatic or manually operated safety cover. Tie-down covers take extra time to remove and replace, while some heavy ridged models, in some cases, may require two people to remove to avoid damaging it. By installing an automatic or manual roll-up safety cover, homeowners can spend more
time enjoying their new swim spa and less time maintaining it.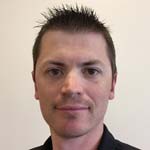 Sean Miner, MBA, is the product director of automatic safety covers for Latham Pool Products. He is responsible for ensuring Latham produces the strongest and most innovative safety covers possible. Miner has experience in developing and marketing industry leading products in multiple industries. He can be reached via e-mail at seanminer@lathampool.com.