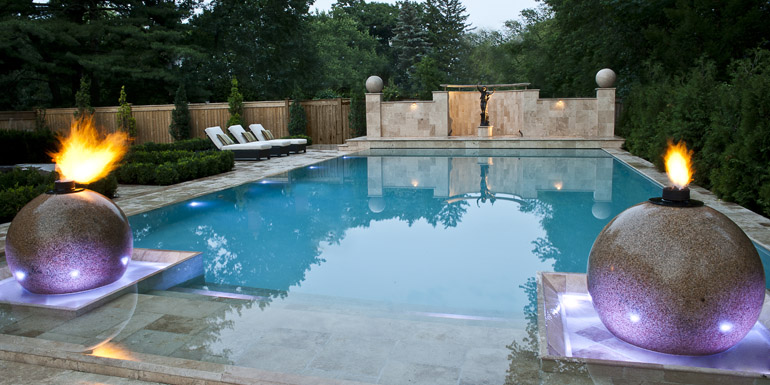 By Barry Justus
A project's design is influenced by a number of factors. Designers and builders are constantly performing a balancing act with respect to budget, client interests, site conditions, and building codes. The addition of energy efficiency and esthetics only serves to complicate the project. Typically, the client's budget and expectations dictate to a large degree the final outcome of a design.
For this particular project, the client was well-travelled and had also lived in various parts of the world. The initial meetings involved the use of an interpreter to ensure the client's desires, ideas, and project parameters were fully understood. After being introduced to the client via their custom homebuilder, the home's architectural details and interior finishes became apparent. The client's love for art was also made clear during the initial meetings as their home was filled with paintings and statues, which were a reflection of the client's refined tastes.
With this knowledge, the concept of energy efficiency was introduced to the client who embraced the idea wholeheartedly. With these goals in mind, the plan to design a project that would be both esthetically pleasing and energy efficient proceeded.
Compromising design factors
As with most energy-efficient projects, the goal was to design a swimming pool and water feature that was a compromise between budget, esthetics, and real-world living. The most energy-efficient design involves replicating a thermos. For instance, a fully insulated covered pool that is removed from all outside environmental influences will approach an energy-efficient nirvana. However, in the real world, clients use their pools, water features, fire features, and living environments. By nature, these simple activities increase energy costs and lower the efficiency levels of any project. Therefore, the project's actual design and construction was a compromise between energy and user efficiency.
For this project, the initial design took the following into account:
Budget;
Esthetics;
Site conditions;
Conceptual goals;
Green ideals;
Architecture; and
Compromise
A fair amount of compromise is required to complete a project of this scale. For example, fire features and perimeter overflow components are not typically incorporated into an energy-efficient design. Nor would anyone deem a large-scale water feature to be an efficient way to conserve energy; therefore, a company with experience in combining all of the above parameters into a project will be more likely to achieve the overall efficiency goals.
Designed for esthetics, built for efficiency
The trick with this type of project is to make the esthetics conform as closely as possible to the overall efficiency goals. In other words, design the esthetics and then build the project as energy efficient as possible. The efficiency aspect should not take away from the project's creativity.
The following energy inefficient components are part of this project's conceptual design; the challenge was not so much building it, but making it efficient:
Deep pool: The pool comprises mostly deep end with an average depth or more than 2 m (6.5 ft);
Large body of water: The pool is big for swimming lengths and for scale;
Fire features: These fossil-fuel elements are one of the design's main architectural components;
Perimeter overflow; and
A purely esthetic large-scale water feature.
An even greater example of how important esthetics were was the simple fact a solar heating system was not considered due to the compromise it would place on the home's architecture. Lack of space in the yard also precluded the ground location of solar panels that could be hidden from view.
And, in an area where natural gas is both readily available, abundant, and relatively inexpensive—for now and the foreseeable future—using a geothermal heating system also was not a viable option. There is a fine line between energy efficiency and the payback period associated with adding these components to a project.
Project approach was no different
With the above in mind, the project was tackled with a set of detailed plans. The plans included the engineering specifications of all structural components.
Every aspect of the job, including the hydraulics, pool fittings, gas lines, electrical components, heating system, drains, and material selection, was decided before breaking ground. The project's key components included:
Raised-perimeter overflow swimming pool;
Cast-in-place concrete construction;
Five underground bunkers;
Fully insulated pool shell, plumbing and equipment bunkers;
Automated floating cover;
Surge tank/bunker/cover tank;
Large custom granite fire-and-water ball features in a reverse-vanishing edge;
Energy-efficient plumbing and equipment;
Classic water feature;
Bronze statues; and
Extensive landscaping and deck treatments.
As the client visited the site infrequently, these agreed upon plans were relied on to guide the project's progress.