FIRE AND WATER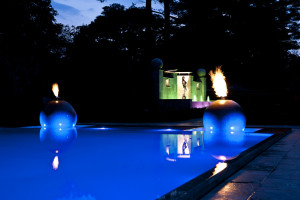 One of the project's most unique features is the custom fire-and-water features. This deceptively simple feature required a significant amount of detail and thought. It comprises two custom-made 0.9-m (3-ft) diameter granite balls (along with four, 0.6-m [2-ft] diameter granite balls for the travertine walls), each core drilled to provide access for plumbing, gas, and electrical lines to create the automated fire-and-water effects.
These features are fully automated to allow a thin veneer of water to cover the granite, keeping the rock looking pristine, while at the same time keeping the fire effects cool in the 101.6-mm (4-in.) confined space of the granite interior.
All of the automation equipment was located in two small underground bunkers constructed beneath the pool deck. A series of drains, vents, gas lines, electrical connections, and controllers link these bunkers back to the main pool bunker.
Each granite ball was also illuminated using four strategically placed light-emitting diode (LED) lights located inside the reverse vanishing edge swimming pool to further draw attention to these features at night.
Construction begins
Both the pool and water feature were constructed using cast-in-place concrete. Although this method is labour intensive, it allowed for the precision required when building a perimeter-overflow swimming pool and all-tiled water feature.
Perimeter-overflow pools require strict adherence to engineered design protocols. Solid footings and soil reviews are an absolute must for this type of project. Any settlement or compaction will cause the project to fail and result in poor performance of the edge. Tolerances are essentially zero; level water has no way of disguising imperfections along the edge.
As mentioned earlier, these pools would not normally be considered for an energy-efficient project; however, it is possible to build a very efficient perimeter-overflow pool. First and foremost, the edge has to be extremely level and secondly, the hydraulic design and performance has to be well-planned and executed.
Engineered hydraulics takes the guesswork out of pool design and performance. In general, large-diameter plumbing, short pipe runs and well-placed inlets in the body of water, combined with an energy-efficient pumping system, will result in immense long-term energy savings. Unless the architect has specified a project to imitate Niagara Falls, the edge effect should be subtle. A dead-level edge takes very little water to create a perimeter overflow.
Screaming pump(s) also indicate poor design, performance, and installation, or in a worst-case scenario, settlement of the entire shell. If the shell settles, the edge will be out of level and will require a massive amount of water to spill over the 360-degree edge. It takes a well-thought-out design, precision performance, attention to detail, a substantial budget, and time for construction to make a perimeter-overflow pool look effortless. The magical, yet, subtle effect of still water spilling over an edge is often taken for granted by consumers as it is not easy or inexpensive to construct.
This particular pool also had some unusual features. The raised perimeter overflow was chosen for both esthetics and practical reasons. Although strict-edge tolerance and engineered plumbing allowed the pool's edge to operate using a variable-drive pump set at 1,200 revolutions per minute (rpm), a second pump was included to increase the edge flow at certain times of the year. Also, due to the amount of foliage hanging directly over the pool, which contributes to massive leaf loads in the fall and blossoms in the spring, when the secondary pump is engaged, leaves migrate to the pool's edge for easy removal. This also prevents very little debris from settling on the pool floor. Again, strictly for esthetic reasons, the client opted not to install an in-floor cleaning system, but rather have the pool and water feature serviced on a weekly basis.
Finally, one side of the pool was left as a standard coping profile due to the close proximity of the lot line and softscape barrier. This prevented the pool's saltwater surge from affecting the nearby plantings.
Bunkers
Cast-in-place concrete bunkers were also installed for both esthetic purposes and energy-saving abilities. Individual bunkers were installed for the pool, water feature, and fire effects. They were constructed using standard waterproofing techniques and house a substantial amount of equipment (e.g. plumbing, electrical, gas, automation and mechanical systems), which were all located below grade and required to run and maintain the project. Locating the bunker underground provided the following benefits:
Shorter plumbing runs (increased hydraulic performance);
Sound isolation for the equipment (quiet performance for the client);
Isolates plumbing and equipment from weather (does not freeze in the winter);
Prolongs equipment life by eliminating its exposure to the elements;
Safety and security for mechanical equipment;
Efficient use of space (a cabana is not required to house the equipment);
Flooded suctions for all pumps (These pumps are located below grade, and therefore prime instantly as water is not being drawn uphill to flood the pumps. Pumps located on a typical equipment pad in a shed, for example, do not have flooded suctions as water drains out when they are opened for maintenance.); and
Efficient plumbing and mechanical rooms show the builder's skill and makes maintenance easier for service crews.