Insulation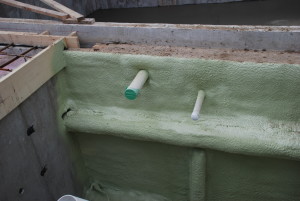 The entire pool shell and all plumbing runs were fully insulated. This not only conserves energy by retaining heat (especially when combined with an automated pool cover), but also serves a secondary purpose by protecting these components in the long-term.
The water feature was not insulated as this feature is not heated; therefore, heat conservation was not required.
EXPECT THE UNEXPECTED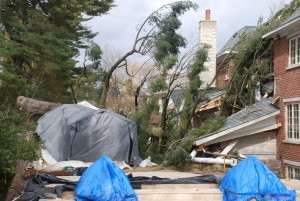 Never doubt the compressive strength of concrete. During a severe windstorm, a massive tree from the neighbour's property blew over and landed with incredible force directly on top of the client's water feature.
The structural integrity of the water feature survived without a scratch (or crack); however, the same could not be said for the client's custom home, which was under construction. The entire back deck was destroyed, part of the roof and portions of the home's interior were damaged to the tune of $100,000. At this point, a team was quickly assembled to shore up the home and cut up the fallen tree before realizing the porch—where coffee breaks and lunches were had—was completely destroyed.
Automated pool cover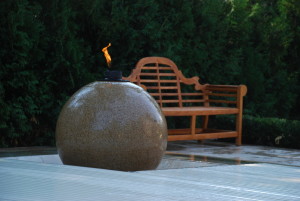 Since the vast majority of energy consumed by an outdoor pool is for heating, an automated slatted cover was installed both for its esthetics and energy-saving potential. It is housed in its own bunker and coils out over the length of the pool via the touch of a button. These covers can also be combined with solar power for heat generation or filled with insulation for increased heat retention. The cover reduces evaporated heat loss drastically by acting as a thermos cover when the pool is not in use.
Surge tank A surge tank was also included in the design. It has sufficient capacity to capture rainwater and act as a reservoir when the pool needs make up water. Generally, this type of surge tank capacity would easily meet the water needs of a pool in a northern climate. It also helps reduce the amount of water added to the municipality's sewer system during a storm by acting as a water reserve buffer.
Automation
An automation system controls all pool and water feature functions. Variable-drive pumps are programmed to meet the minimum run and capacity times to keep all of the amenities clean, safe, and esthetically pleasing.
Automated controls and timers also operate the 32 light-emitting diode (LED) lights between the two bodies of water (pool and water feature) as well as all exterior landscaping lights.
Auto-fill and overflow drains are also connected to both bodies of water, while cartridge filters, salt chlorinator (sanitation), and mineral systems combine to keep the water clean, clear, and safe for bathers.
The water feature
Water features are not 'green' by nature, but this one was designed to minimize its long-term energy consumption.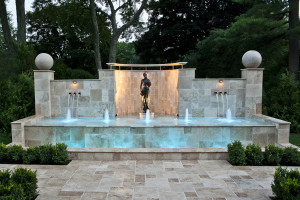 Constructed using cast-in-place concrete, this classic water feature is built above a fully waterproofed underground bunker, allowing the client to view and enjoy its various features from their kitchen. The water feature's focal point is a bronze statue (a similar statue is included in the pool area), which is bathed in light in the evening. The water feature itself has a 6.1 m (20 ft) reverse vanishing edge that takes on a shimmering glow at night, while foam jets (which operate on an independent variable-drive pump) are further accented with LED lights. The entire water feature is illuminated by 15 lights in three zones. Mini sheers also cascade from the wall on an automated valve. Automation features were linked back to the main pool panels and ultimately controlled via a touch pad inside the home.
In terms of energy efficiency, the water is not heated; therefore, the water feature was not insulated and is shutdown during the winter months. Variable-drive pumps, combined with hydraulic engineering, allow the water feature to operate with very little energy consumption. Precise tolerance on the reverse vanishing edge, short plumbing runs, and large-diameter plumbing, combined with cartridge filters, and LED lights, further reduce energy consumption.
All tile work, including deck areas, walls, coping, and pool interior are constructed using travertine imported from Turkey. The landscaping and softscape were also designed for efficiency by minimizing runoff from the site, while also lessening the overall 'concrete footprint' of the project.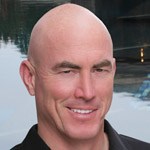 Barry Justus is the founder and president of Poolscape Inc. He designs and lectures internationally, is a member of the Society of Watershape Designers and is a faculty instructor with Genesis 3 Design Group. Justus can be reached via e-mail at barry@poolscape.com or by visiting www.poolscape.com.