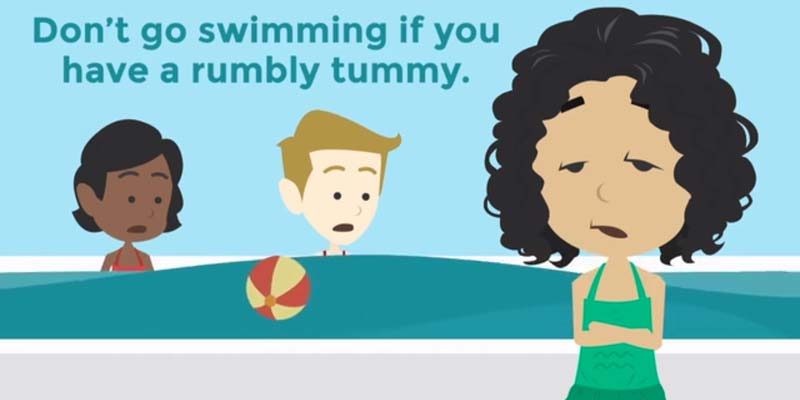 As Victoria Day in Canada and Memorial Day in the U.S. mark the unofficial start of the swim season, a 2017 Healthy Pools survey, conducted online by Sachs Media Group, has revealed there may be more in the pool than just water.
The National Swimming Pool Foundation® (NSPF®) and the U.S. Centers for Disease Control and Prevention (CDC) participated in the recent survey, conducted on behalf of the Water Quality and Health Council, to learn more about the public's knowledge of Cryptosporidium (Crypto). It found one in four adults (25 per cent) would swim within one hour of having diarrhea, half of adults (52 per cent) seldom or never shower before swimming in a pool, while three in five adults (60 per cent) admit to swallowing pool water.
These results are concerning to experts given that waterborne outbreaks of diarrheal disease caused by the Crypto germ remain a challenging health concern. This parasite can spread when someone swallows water that has been contaminated with the fecal matter of an infected swimmer. Crypto is the most common cause of diarrheal illness and outbreaks linked to pools or water playgrounds. In addition to diarrhea, some people experience lack of appetite, nausea, vomiting, weight loss, stomach cramps or pain, and fever.
The CDC advises those infected with Crypto to avoid swimming until two weeks after recovering from diarrhea. Parasites can remain in the small intestine for weeks and cause symptoms to reappear days after the infected person recovers.
"Normal chlorine disinfection of pool water does a great job in destroying most germs, but Crypto presents a special challenge," said Dr. Chris Wiant, chair of the Water Quality and Health Council. "An awareness of Crypto helps us remember that a healthy pool depends on swimmers being considerate of one another. Showering before swimming, refraining from peeing in the pool, and not swimming for two weeks after experiencing diarrhea can help keep swimming fun and healthy for everyone."
Other key findings of the survey include:
72 per cent of adults are unaware that Crypto is a parasite often spread in water.
84 per cent of adults are unaware the use of chlorine at CDC-recommended levels will not instantly kill Crypto in pools.
"Crypto is not easily killed by chlorine and can live up to 10 days in well-treated pools," said Michele Hlavsa, RN, MPH, epidemiologist and chief of the CDC's Healthy Swimming program. "Just a small number of Crypto germs can make someone sick. That's why it is important to keep Crypto out of the water in the first place."
This announcement follows the results of a recent study, conducted by researchers at the University of Alberta, which revealed high urine levels in pools and hot tubs after more than 250 samples were taken from facilities in two Canadian cities.