Shell material
Engineers also look for the spa shell to have high-impact and non-skid properties. Some commercial spa manufacturers use a high-impact acrylonitrile butadiene styrene (ABS) sheet, which is up to 85 times thicker than standard acrylic sheet used for residential spas. High-impact sheet is capable of withstanding the wear and tear of high-traffic commercial use, while its hair-cell finish features non-skid properties. These spa shell features are preferable to have both underwater and on exposed spa surface areas for emphasis of safety.
Step design
Commercial spa steps, as opposed to residential spa steps, must adhere to building codes. This involves achieving a minimum rise and run dimension to make it safe for consumer use.
Contrasting lines for depth changes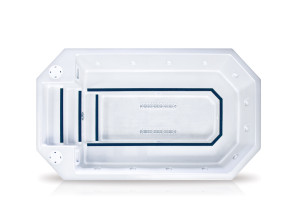 The edge of each spa seat and step is required to have contrasting lines applied. These lines assist bathers in observing edges and depth changes as well as moving in and around the spa in a safe manner.
Plumbing design
Each commercial spa must be plumbed in accordance with the engineer's specifications. This entails calculating flow rates and line sizes to accommodate unique site and equipment specific requirements. For instance, as per the Virginia Graeme Baker Pool & Spa Safety Act (P&SS Act)-approved suction or main drain outlet flow rates should not exceed 0.45 metres per second (mps) (1.5 feet per second [fps]) based on the P&SS Act and regional health board regulations.
Further, skimmer flow rates should not to exceed NSF International ratings, and pipe fittings should not exceed 1.5 mps (5 fps) suction velocity and 3 mps (10 fps) for return fitting velocity.
Skimmer equalization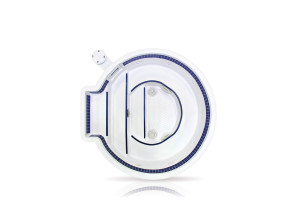 For added safety, reliability, and functionality, each skimmer must be equalized to the spa's floor circulation main drains. Equalization involves using a multiple outlet skimmer, whereby one port is connected to the main drain assembly in the spa floor. This allows for two suction points and prevents any danger of suction entrapment should a bather 'seal' against the skimmer face.
Site specific installation
Typically, commercial spa shells are either made from vacuum-formed thermoplastic or concrete. Shapes and sizes are unlimited as long as the design meets the code requirements as discussed previously. Large spas (longer than 4.5 m [15 ft]) generally require concrete construction.
Each commercial spa installation is unique, and therefore requires engineering involvement. Again, in the commercial spa sector, there are many factors to consider that a residential spa dealer would not normally have to face. For instance, commercial spa installations generally also require:
Vacuum breakers
Vacuum breakers are used as a redundant safety feature to prevent the possibility of suction vacuum entrapment.
Emergency shut-off
As mandated by the International Code Council's (ICC's) International Swimming Pool and Spa Code, an emergency shut-off switch is required to disconnect all power to circulation and jet system pumps and air blowers. These switches should be accessible and located within sight of the spa—no less than 1.5 m (5 ft) and not greater than 3 m (10 ft) horizontally from the inside walls of the spa.
Flow meters
Flow meters allow commercial spa operators to quickly check that the design flow rate is maintained. Maintaining an optimum flow rate is crucial to water maintenance and achieving the required turnover rates.
Water purification systems
Water treatment systems vary according to each application. Some examples of what are being used today include: chlorine tablet feeders, saltwater chlorine generators, ozonators, and ultraviolet (UV) sterilizers.