System integration
Retailers that do not have business software that can easily track customer loyalty accounts will find it very time consuming to do so manually. Some POS software programs will do this automatically, so all the retailer has to do is select the program type and pick the items that will be included in the loyalty program.
A&M Corsons has had a customer rewards/loyalty program in place for almost five years and they have used both manual and automated approaches.
"We originally started our program within QuickBooks and found it worked well as it was built-in. The best part was it printed the customer's points on their receipt, making it transparent to the customer," said Gray. "However, we have operated the program manually as well by tracking everything in Excel. In our manual system, we pulled reports into Excel and combined the data with all of our sales information and then entered the credits back into our system. It's basically two reports.
"This method requires some work on the part of our accounting department, and we keep the balances in the customer notes. This is not ideal, but as we transition into our fully integrated software system, it's a method that works."
Redeeming loyalty points
Most consumers like to accumulate points on every purchase; some may even get upset when certain items are excluded. Keep in mind, the ultimate goal is to encourage regular in-store and online visits; therefore, successful programs tend to have larger point figures that equal a cash value (recurring) or discount amount.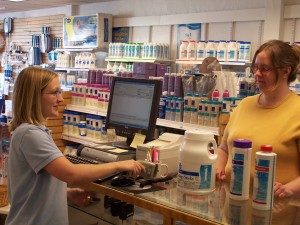 How the loyalty benefit is provided is an important consideration. For example, a recurring loyalty program can be set up to provide the customer with a $25 credit in the system once they have accumulated 250 points. Or, by using a discount-based system, where the balance is accrued in a quarter or calendar year, the consumer can use the discount in the following period. For instance, if a customer obtains 250 to 300 points in the first quarter, they will get a 10 per cent discount in the second quarter, or if they earn 300 to 400 points, the discount increases to 15 per cent, and so on.
Recurring loyalty programs are the easiest and coupons are a good way to reward the customer's loyalty. Some retailers choose a 'credit' or 'credit memo,' however, be sure to keep an eye on the totals so the books are not loaded with this type of credit—which is not something 'owed' to the customer, rather a benefit to the customer for their loyalty/purchases. It is also important the loyalty program includes some 'lag time' between when the consumer reaches the point threshold and when they are permitted to redeem them. This is vital as retailers do not want to have someone purchase a product, use the reward, and then bring it back within the 30-day return period. To account for this, many retailers set their program's provisions to not apply any points from recent purchases to customer accounts until after 30 days.
Gray offers another tip. Rather than allowing customers to continually accumulate credits in their account, retailers should put an expiry date on them (e.g. six months to a year) as this eliminates accounting system problems, especially when a one-time customer purchases a high-ticket item but never returns. Further, by having an expiry date, it gives retailers a reason to reach out to these customers and invite them to the store to redeem their points before they expire.
"We currently have approximately 15,000 reward members and reminding them that their credits are about to expire can be a monumental task," says Gray. "However, through our new integrated software program, the system allows us to generate a report to see when customer credits are about to expire for easy follow-up with these program members."
Finally, loyalty points can also be used as a great customer service tool. For example, should a retailer want to compensate an angry customer they can offer them an extra 100 loyalty points. This offer can help better the situation by making the customer feel good and the retailer is not actually spending any money to remedy the complaint. This can be a great customer service tool for retail employees to keep in their back pocket.
Signing them up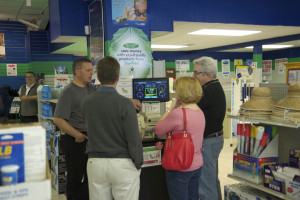 Retailers often hold 'special events,' 'open houses,' and/or 'sales events' where they heavily promote their loyalty program to add new customers into the database. Some even offer incentives for signing up by giving customers a 10 per cent discount or an additional 100 points, should they commit that day.
In doing so, Gray suggests retail staff should be well-trained on the loyalty program so they do not oversell any of its benefits or misrepresent how it works. Further, customers should not be automatically enrolled without a verbal and written explanation as well.
The loyalty program should be promoted using a counter card (placard) set up at the POS. The checkout screen should also prompt all employees to ask the customer if they want to become a member of the program. Some POS systems will even allow retailers to use their customer's existing loyalty cards (e.g. a grocery store keychain barcode) so they do not have to provide a new card to the customer—especially if they do not want to carry another card on their keychain.
"We are still in the initial stages of creating a loyalty program, but have done a lot of database mining in the past," says Soubliere. "Bringing customers in for barbecue classes have proven to be a successful way to develop loyalty and keep our customers visiting our stores. Signing customers up for a loyalty program as the class ends, along with giving them a bonus or special reward, is an ideal time to build more loyalty with the customer."