Sizing and installation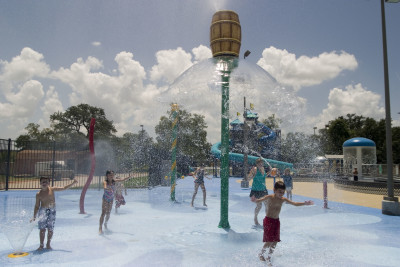 UV disinfection is easier to accomplish relative to chloramine control. Before sizing a system, first determine whether the pool is indoors or outdoors. Chloramine control is not typically an issue with outdoor pools, whereby vapours simply blow away in the breeze.
Before implementing UV technology, however, several things must be kept in mind. Water quality and temperature, bather load, turnover rate, plumbing size, regulatory considerations, filtration design, environmental concerns and the availability of local, factory-trained service personnel are a few of the many considerations used when selecting a system.
It is also wise to work with an experienced company and to select an NSF/ANSI Standard 50 listed product. This standard, Equipment for Pools, Spas, Hot Tubs, and Other Recreational Water Facilities (2009), contains a wide variety of requirements, which address materials, products and equipment used at recreational water facilities. It also includes items used in water circulation, filtration, treatment and monitoring of residential and public swimming pools, spas, hot tubs and water parks.
Health departments are also starting to incorporate UV technology into aquatic codes and are requiring 'validated' units, whereby testing by an accredited independent third party is involved.
Testing protocol is often based on municipal drinking water standards and differs from country to country. Health codes requiring validated units should base the standard on performance level. For example, validation should be based on reduction of a target pathogen rather than on energy level, which can be interpreted differently depending on the respective country's testing protocol.
For existing facilities, retrofit installations are typically easy and can be completed in a day or two. However, the pool is only closed for a few hours, while the bypass is plumbed into the filtration line. A factory-trained technician should commission the newly installed system; making sure all the wiring from the cabinet to the chamber is properly connected and the programming is specific to the actual pool.