Making solar blankets more appealing
For those swimming pool owners who have a solar blanket, their reasons for not using them are many and varied.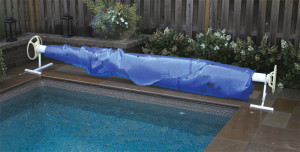 For instance, many say solar blankets that are attached to a conventional on-deck reel system can obstruct the view of the yard and be difficult to operate. However, for existing swimming pools, this is still the best option as the money saved in water and heating costs is significant. Rather than using a reel system, the pool owner can place the blanket in sections over the pool and when removing it, it can be folded and stored.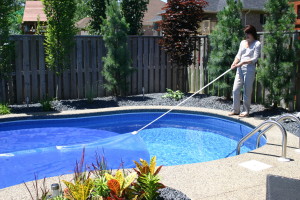 Another option for solar blanket management, which needs to be decided at the time the pool is being installed, is integrating the solar roller system into the pool deck. This option not only conceals the solar blanket and reel system in the deck when it is not being used, but also provides pool owners with easy, one-person operation when extending or retracting the cover.
These storage systems are self-draining and typically have an aluminium lid, which sits flush with the pool deck. To cover the pool, the homeowner simply pulls the blanket onto the pool using the pull strap. To uncover the pool, the homeowner inserts a crank handle into the gearbox to roll the blanket into the deck.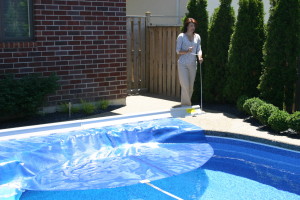 There are various options available, but most importantly, blanket usage, energy conservation, and environmental impact need to be part of the dealer's discussion with their customers. A consumer who regularly uses a solar blanket will keep their pool water at a comfortable swimming temperature, save money by using less water and chemicals, and get the best return on their backyard investment.
Ornella Bertoni Liburdi is the general manager for Cleardeck Systems Ltd., a manufacturer of below deck solar roller systems for swimming pools in Windsor, Ont. She has 30 years experience in the pool industry in both retail and manufacturing. She can be reached via e-mail at sales@cleardecksystems.com.