The patio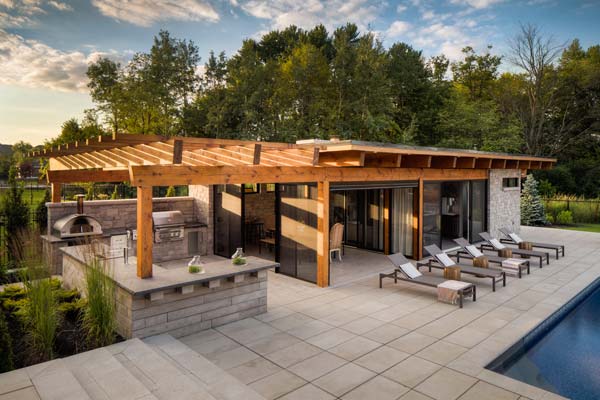 Due to the size of the patio, located adjacent to the pool, and the limited area to manage surface water, a permeable patio system and stone was determined to be the best option. This system allows water to run through the patio to a subsurface where excess water can drain into the ground without any puddles on the patio.
A considerable amount of preparation was involved to install the permeable patio system and various materials were required for the sub-base. A drainage pipe was also needed to prevent water from pooling under the patio.
The water and fire features
The raised wall, built using a 90-mm (3.5-in.) stone, has a sleek polished look. The stone's modern design enhances the visual appeal of the fire feature and custom sheer descents located in the deep end, along the pool's rear wall. Both features are automated and can be turned on remotely using the system's app.
The outdoor kitchen
This outdoor kitchen, which is attached to the cabana, is conveniently located poolside and has a variety of amenities, including a built-in barbecue station, pizza oven, keg fridge and tap, and a large serving and eating area under a covered roof.
The structure was built using a stone that captures the esthetics of wood with the practicality and durability of concrete. This stone is ideally suited for this feature item, as it suited the backyard's sophisticated look and co-ordinates well with the landscape's modern design.
The same stone was used to build bench seating around a wood-burning fireplace to create a cozy social area located behind the fire and water feature wall.
The cabana
The custom cabana, which is approximately 74 m2 (800 sf), is designed to be the hub of the backyard. It is equipped with a wood-burning fireplace, outdoor shower, custom cabinetry, and a two-piece washroom, while the folding glass doors provide a more open feeling between the interior and exterior spaces.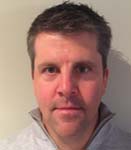 With more than 20 years' experience in the industry, Jason Mitchell is the president of Pool Craft, a full-service pool company that specializes in all aspects of pool planning, installation, and backyard design, in Richmond Hill, Ont. He is also the co-owner of Stone Craft Inc., a landscape company. Mitchell can be reached via e-mail at jason@poolcraft.ca.