The pool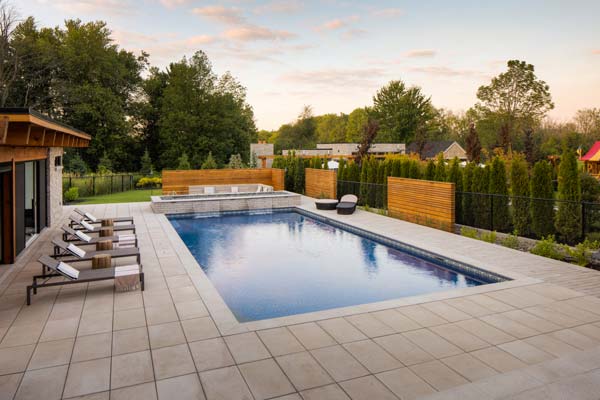 This 6.1- x 12.2-m (20- x 40-ft) vinyl-lined pool is loaded with special features. It includes a 1.8-m (6-ft) fibreglass corner step, a 1.2-m (4-ft) custom steel bench in the deep end, and three light-emitting diode (LED) colour lights positioned evenly on the wall adjacent to the cabana. Two, 1.2-m (4-ft) sheer descents were also installed, each running off a dedicated 51-mm (2-in.) line.
In terms of equipment, the pool has two variable-speed pumps (VSPs), a 40-m2 (420-sf) cartridge filter, a 400,000 British thermal unit (Btu)-gas heater, a salt chlorine generator, and an automation system with a wireless control interface to enable the homeowner to operate the pool remotely or off-site.
The VSPs selected for this pool not only operate quietly, but also conserve energy. Another advantage of these pumps is they can run at full capacity to operate the water feature at its maximum output, or at a lower speed (i.e. revolutions per minute [RPM]) if a more subtle, gentle flow is preferred. For these pumps, it is estimated the return on investment (ROI), with respect to energy savings, is 14 months of use or, in most cases, two pool seasons.
The cartridge filtration system specified for this pool will filter down to a finer micron, allowing water to travel through the filter at higher rates (which is ideal for pools with water features) and does not require water to be discharged from the pool to clean the filter. The homeowner can expect to save approximately $500 in water each year, as opposed to installing a sand filter.
The pool coping
The bullnose coping is 60.3 mm (2.375 in.) thick by 355 mm (14 in.) deep by 762 mm (30 in.) long and has a rounded, smooth edge, which is ideal for rectangle pools. In certain applications, caulking or an expansion joint would be required between the pool coping and the patio; however, in this case, an underground drainage system and permeable stone was used, which eliminated the need for a caulking joint.
A foam rod was inserted in place of the traditional caulking joint in preparation for a self-levelling caulking product. This is designed to seal the area so any unwanted water can travel freely to the patio and drain. This style of joint is not designed for freeze-thaw susceptibility.