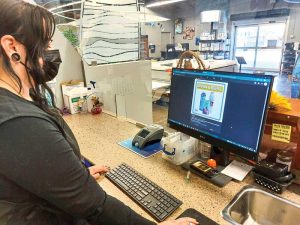 By Jamie Novak
Whether people recognize it or not, everyone has their own personal brand, and it is important to maintain it in today's noisy, digital world, where information spreads quickly and often without a thought about the consequences. This article will discuss tips for success when it comes to both personal and business branding, and how businesses can navigate difficult customer interactions.
According to a 2020 survey from the Harris Polls commissioned by Express Employment Professionals, nearly seven in 10 Canadian hiring decision-makers agree that looking at a candidate's social media profiles is an effective way to screen applicants. Further, 68 per cent of employers believe checking social media accounts is an effective way of screening potential employees.1 Kathi Belcourt, manager of Aqua-Tech Pools in Winnipeg and Manitoba, says her team regularly checks the social media accounts of potential team members to gain insight into their areas of interest.
"For example, this summer there were three candidates for a position and one of them was an avid hiker. We have two existing team members who also share this passion, and this mutual interest allowed the team to become closer, faster. When our divisions create a sense of camaraderie within them, the teams are much happier and, in turn, provide a better customer service," says Belcourt.
Another survey by Career Builder found 54 per cent of employers ruled out a candidate due to something they saw on their social media.2 Even with private accounts and restrictions, no account is actually "locked down" fully, and there is more information available about a person online than they expect. These days, everyone has a digital footprint which can be traced, and it is critical the image people portray online matches their desired personal brand. The same applies to businesses and their reputation, and managing the two.