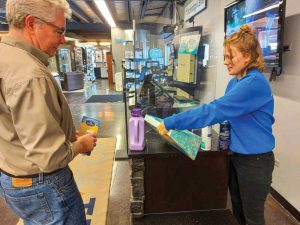 Creating brand advocates
When a customer has a great experience with a product or service, chances are, they will verbally share those details within their social circle. As business owners in the pool industry, one can identify many customers who are brand advocates for the organization. They probably refer friends to the business when specifically asked about pool or spa chemicals; however, this is likely as far as they will go when advocating. Many happy customers are more than willing to provide reviews for a business, they just are not aware of the easiest way to go about doing so or need a gentle reminder. Businesses could consider offering an incentive for customers to leave a review online; however, they could also just start asking happy customers to leave reviews. Not only can businesses consider using this content in future marketing, and they will also see how this positively impacts the company's digital presence as well.
As an example, the author shares an experience she had with a small, local, candle-making business in her hometown, which she visited with her teenage son. When they left the shop with their custom created candles (i.e. a unique product offering) and good memories from the day, she wanted to share this experience with others, not only so they could enjoy some quality time with family or friends as well, but to help promote this small business. And within an hour of being home, she posted photos of their experience with a glowing testimonial, tagged the company, and told more than a thousand Facebook friends to check the place out. In just one experience, the business was able to create a brand advocate in her.
Handling negative comments and reviews
Inevitably, at some point, any business will likely encounter people who will share their negative experience or even be combative. As a business owner, it is important to try and address their concerns and, ideally, the conversation can turn into an offline one. For example, a business owner can ask the customer to direct message (DM) their contact information to further discuss the details of their concern privately. When people make negative comments, posts, or reviews publicly on a business account, other followers often watch the chain to see how the business responds. A straightforward and transparent response will gain respect from the audience, whether they choose to click "like" on the response or not. Ignoring a complaint or negative comment can reflect poorly on the business, and some followers may even theorize about how the business is hiding something by not responding.