Longer product life (dirt holding capacity)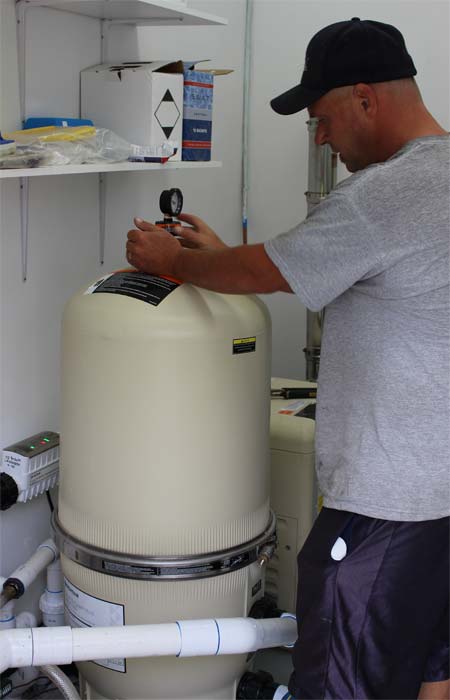 Everyone desires longer product life when making an investment. The filtration system is not exempt from this. Unlike most industries where filters are disposable, in the pool and hot tub sector, filters are serviced regularly and re-used for as long as possible. Though the filter may never attain the same performance as when it was new, the client expects it to last a long time.
It is not easy to estimate how long a filter will last, since there are so many variables and no two pools are the same. The life of a filter is impacted by how well the pool water chemistry is maintained, what type of chemicals are being used for water treatment, other pool maintenance requirements, weather, algae blooms, and many other different situations.
To find out how much dirt a cartridge will hold or withstand, the filter was not serviced for this part of the test, as the system was left to 'max' out. Today, most intelligent pool pumps will automatically shut down when there is very little flow through the system. Filtration systems for the most part are rated for 50 psi; however, most pools have limited flow beyond 30 psi (pressure as seen on the gauge of the filtration tank). If there is insufficient circulation in the pool, the water quality is negatively impacted.
For this part of the test, the challenge load was continually added into the tanks until the filter system pressure peaked at 30 psi. The final result showed 'System B' was capable of holding more dirt compared to 'System A' before both tanks reached 30 psi (see Figure 3 below).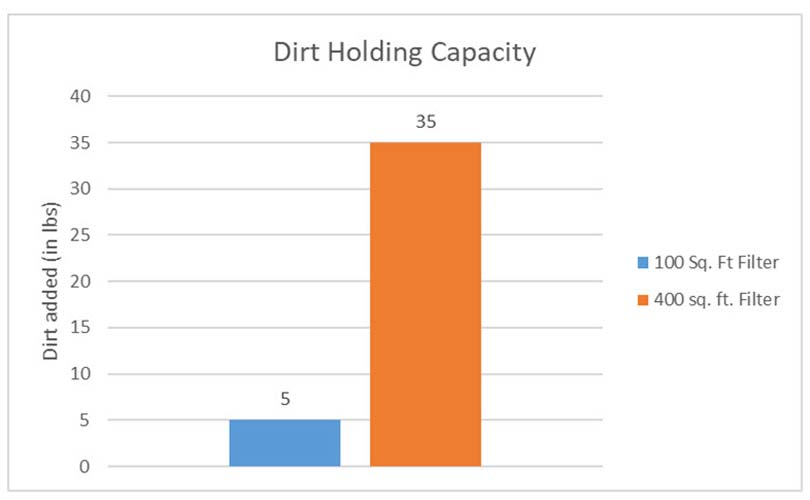 The need for a new standard
The current standard for pool and hot tub filtration media needs to be updated to achieve what today's consumers are expecting from the product. It also needs to be dynamic enough to accommodate the changing expectation of the market and consumers. All manufacturers want to build a product for future customers; therefore, the industry standard should allow and encourage companies to develop better products for the industry.
At the heart of the issue is the current pass/fail segment of NSF/ANSI 50: Equipment for Pools, Spas, Hot Tubs and Other Recreational Water Facilities to clear a body of dirty water by 70 per cent in five turnovers at different flow rates.
Commercial flow rates for cartridge filters = 1.4 lpm (0.375 gpm)/sf of media
Residential flow rates for cartridge filters = 3.78 lpm (1 gmp)/sf of media
These flow rates encourage the formation of filter cake at different rates that may not necessarily produce the desired clarity within the five turnovers specified. The standard penalizes larger-sized multiple-cartridge filter systems by expecting the system to accomplish the same clarity of water in five turnovers similar to a smaller single-cartridge filter system.