By Alex Risen and Christian Taber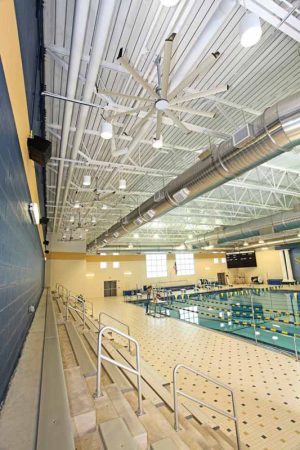 Natatoriums are no exception and have fought a long battle for proper ventilation. Heating, ventilation, and air conditioning (HVAC) systems are often thought to be the complete solution to indoor air quality (IAQ) concerns. While air handling units (AHUs) are a major component of the equation, the introduction of high-volume, low-speed (HVLS) fan technology can help create a more cost-effective, uniform environment; one where swimmers, staff, and spectators feel comfortable and safe.
Swimming in space
Like any large, open space, the bigger the pool, the more difficult it is to achieve a uniform temperature. Hot air rises to the ceiling, leaving cooler, denser air below near the occupant's level (and at the pool's water surface).
Other than achieving a desired, uniform temperature, it is far more tedious to distribute the air via traditional systems due to the sheer height of the space. By adding HVLS fans to the space, low-energy air circulation can be achieved, increasing the efficacy of the ventilated air.
A perfect score
The solution lies at the core of the building's design and engineering: creating highly efficient, cost-effective spaces as per modern standards. New facilities must consider these measures when planning, designing, and constructing a space; existing amenities often need to be renovated and updated to "make the grade."
HVLS fans are part of the modern solution. In warmer months, a hot natatorium, where spectators are uncomfortable, calls for an elevated air speed solution. Fans, in general, do not lower air temperature in a space; they simply provide a cooling effect that can make a person feel up to five to 10 degrees cooler. As a result, facility managers in air conditioned spaces raise the thermostat in warmer months to make the area more comfortable, thus saving money. According to the U.S. Department of Energy (DOE), every degree of thermostat offset reduces approximately three to six per cent of energy costs, a total of almost 15 per cent—money that could be used to upgrade and maintain the facility.
While occupant comfort is vital to the solution, HVLS fans impact other aspects as well.