Improving indoor air quality (IAQ)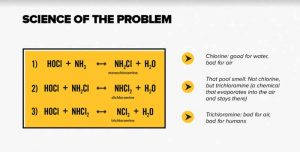 Chloramines, created by the reaction of chlorine with low concentrations of ammonia, are respiratory irritants, with trichloramine being the most toxic. The Center for Disease Control and Prevention's (CDC's) Model Aquatic Health Code (MAHC) (3rd edition, 2018, section 5.6.2.8) states every facility must have a system to minimize these combined chlorine compounds. HVLS fans can help manage chloramine levels, which are highest at the pool's water surface due to the compounds being denser than air, within a desired range.
Moving the concentrated, contaminated air from a stagnant spot at the water surface and spectator level, to an exhaust system and/or through filters can minimize localized air quality issues. Bringing in and distributing fresh air to the area is also required to maintain a balanced and effective system.
Chloramines are responsible for the pungent "pool smell." HVLS fans can reduce the unpleasant odour one often associates with chlorine-treated pools. It is important to note any equipment installed in the natatorium must be corrosion-resistant and able to handle the corrosive airborne chloramines and high humidity levels.
Design dive for HVLS
It is imperative to achieve the perfect natatorium design with comfort and health at the forefront.
The American Society of Heating, Refrigerating, and Air-Conditioning Engineers (ASHRAE), has set recommendations on air movement, humidity, and temperatures within pool and spa facilities. Local codes often use ASHRAE standards as their basis, but these must be checked when designing or renovating a space.
ASHRAE's 2015 HVAC Applications Handbook states the ideal air temperature within an aquatic facility should be two to four degrees above the water temperature, but not higher than 30 C (86 F). A cooling method must be provided when the water temperature is higher than room temperature (e.g. in a whirlpool or spa). A simple trick to maintain the temperature in natatoriums is to monitor how cool a swimmer feels when he/she gets out of
the pool.
ASHRAE recommends the air turnover in pools with no spectators to be four to six changes per hour and those with spectator areas at six to eight changes. Here, the airflow rate should maintain the appropriate air temperature and relative humidity level (which, according to the MAHC, must not be less than 80 per cent) in the space while mixing the air sufficiently.
Running adequate ductwork and installing a larger HVAC unit and boosters to distribute air can be excessively expensive. HVLS fans can reduce ducting, which would significantly increase construction costs, and still miss the mark on destratifying the air in the space to achieve uniformity.