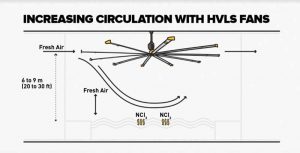 A typical HVLS fan placement is dictated by the size of the facility. A single fan placed over the geometric centre would provide an efficient dispersal of chloramines at the water surface level. However, larger pools and unique designs and layouts, may need more than one fan. With an air movement facility layout tool, designers and maintenance staff can see exactly where the air will go and the impact of the fan's placement on the space, including expected air speeds at occupant and water surface levels.
Linking HVLS fans to automation systems offers greater control to facility managers to operate ventilation and distribution systems cohesively.
Conclusion for HVLS
Like with any building, a natatorium's design must keep in mind its occupants and activities, which would help create a quality environment. HVLS fans can definitely aid in effective ventilation, gently circulating and mixing the air to achieve uniformity and proper IAQ throughout the space.
The MAHC offers recommendations on peak seasonal use of facilities and relative humidity measurements when considering energy consumption during non-peak times. As stated in the 2015 ASHRAE Handbook, reductions in room air temperature and/or relative humidity can increase evaporation from pools, creating the need for dehumidification and elevating pool water heating costs. For example, a system designed to provide the minimum ventilation rate without dehumidification is unable to maintain the desired relative humidity conditions in a space; potentially facilitating mould and mildew growth, thus providing a low IAQ.
As an added bonus, HVLS fans can play an important role as part of a system focused on earning points from the Canada Green Building Council's (CaGBC's) Leadership in Energy and Environmental Design (LEED), a green building certification system providing third-party verification for environmentally friendly building practices during construction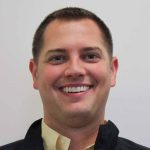 Alex Risen leads the public relations team at Big Ass Fans in Lexington, Ky., which designs, engineers, and manufacturers fans and lights for industrial, commercial, and residential applications. He can be reached via e-mail at press@bigassfans.com.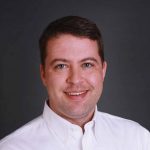 Christian Taber LEED AP BD+C, HBDP, BEMP, CEM is the principal engineer of codes and standards at Big Ass Fans. He is part of the team responsible for assisting in the implementation of the company's portfolio of high volume, low speed (HLVS) fans in comfort and energy-saving applications across the globe. Taber has served on multiple American Society of Heating, Refrigerating, and Air-Conditioning Engineers (ASHRAE) and Air Movement and Control Association (AMCA) committees and his work has been featured in several technical journals and publications. He can be reached via e-mail at info@bigassfans.com.