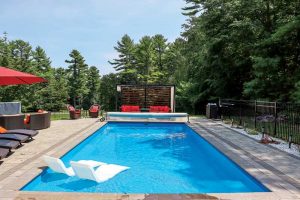 Five reasons to add smaller pools to backyard designs
By Annie Brock
Backyards are no longer just plants and landscaping. They have become an extension of the home, with decks, patios, outdoor seating, firepits, and of course, swimming pools. But, when outdoor living spaces are smaller, homeowners do not want them dominated by a pool, at the risk of sacrificing areas for entertaining or year-round relaxation. As a result, there is a growing demand for smaller pools.
Not only do these compact options serve as spaces to cool off in the summer, but they also leave enough room for other backyard elements on homeowners' wish lists. Smaller pools can also be equipped with jets, which allow users to swim against the current for fitness training or rehabilitation. Savvy builders have recognized these trends and are now designing outdoor living spaces which incorporate smaller pools, firepits, outdoor kitchens, patio seating, and hot tubs, so homeowners can enjoy their outdoor living spaces year-round.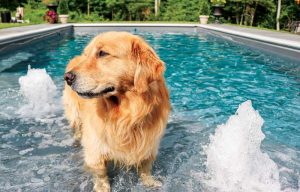 Smaller pools make backyards feel bigger
With the popularity of more functional outdoor setups, most homeowners already have an idea of how they would like to lay out their backyards. Jason Branco, owner of Aqua Med Pools in Dighton, Mass., says most of his clients are working with smaller spaces. However, they have done their research and established their favourite designs based on what they have seen online.
"Not only do my clients want to have multiple features and entertainment areas in their outdoor living spaces, but they are also attracted to the lower price point of smaller pools—which gives more of their budget to other features like spas and exercise options, as well as patio areas and firepits," he says.
Branco installs fibreglass pools, which he started offering a few years ago, to stand out from his competitors who primarily offer vinyl liner pools. At least 50 per cent of the pools Branco installs for his clients are smaller models. These pools are 2.8 m (9.5 ft) wide by 5.9 m (19.5 ft) long, have a constant depth of 1.3 m (4.5 ft), and hold around 16,277 L (4300 gal) of water. Consumers are attracted to the consistent standing depth because it makes the pool ideal for socializing, playing games, and lounging in the water.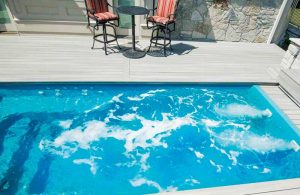 "These pools also have elongated benches on their left and right sides, which extend out from the steps, making them ready for all kinds of entertaining for kids and adults," says Branco. "The seating areas can even be outfitted with therapy jets for a spa-like effect."
Smaller pools can also accommodate automatic covers, which attracts clients looking for an easy open and close. Additionally, automatic covers help ensure no one will enter the pool without knowing the code to unlock it. This makes the pool safer and lowers the need for maintenance, as the cover will keep debris out of the pool when it is not in use.