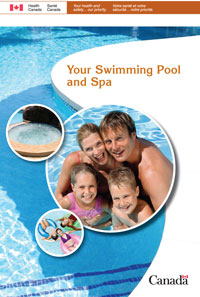 In an effort to ensure pool/spa owners are aware of the health and safety issues related to backyard pool/spa water maintenance, Health Canada's Pest Management Regulatory Agency (PMRA) has released a 12-page brochure containing a series of guidelines for pool/spa owners.
Titled Your Swimming Pool and Spa, the brochure contains various information and guiding principles regarding pool/spa cleanliness, sanitation methods (including salt water pools) and devices such as chlorine/bromine generators, chemical dispensing systems, ionizers and ozone-generating devices.
It also includes tips on controlling algae and using algaecides, as well as using registered or scheduled products under the Pest Control Products Act to control micro-organisms. Guidelines for water testing and a series of pool/spa chemical handling tips are also offered.
The PMRA provides information on recreational waterborne illnesses (RWIs) and methods to prevent their transmission. To download or order a hard copy of Health Canada's pool/spa water maintenance brochure, visit http://publications.gc.ca/collections/collection_2011/sc-hc/H129-4-2011-eng.pdf.