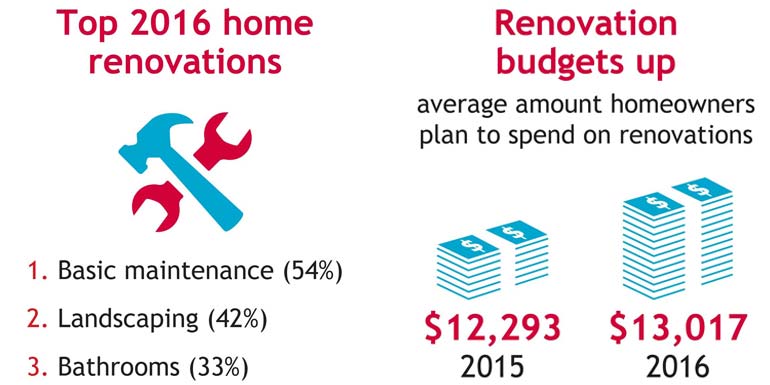 A recent CIBC poll shows Canadian homeowners who plan to complete home improvement projects this year expect to spend an average of $13,000, as the renovation focus shifts to the outdoors.
Forty-two per cent of homeowners are concentrating on projects such as building or repairing decks and patios and landscaping yards and gardens, which is up from 25 per cent last year, while interior renovations are less of a priority.
"The poll shows Canadians are focused on outdoor projects," says Scott McGillVray, host of HGTV's Income Property. "Spending more on the outdoors may not necessarily be the first option when it comes to return on investment (ROI); however the value of curb appeal should never be underestimated. If some of the big hitters inside the home have already been taken care of and the homeowner has the renovation funds, why not turn the attention to outdoor projects?"
According to the poll, more than half (52 per cent) of homeowners say their biggest concern is going over budget, while only a third (34 per cent) say they actually have a budget for their upcoming project.
"Whether the homeowner hires a contractor or does the project themselves, they should have a good understanding of how much their project will cost and should build in a contingency for potential overruns or surprises," says Barry Gollom, vice-president, mortgages & lending, CIBC.
The poll was conducted via online survey from May 19 to 25, 2016 among 2129 Angus Reid Forum panelists who are Canadian adult homeowners.