By Kathryn Varden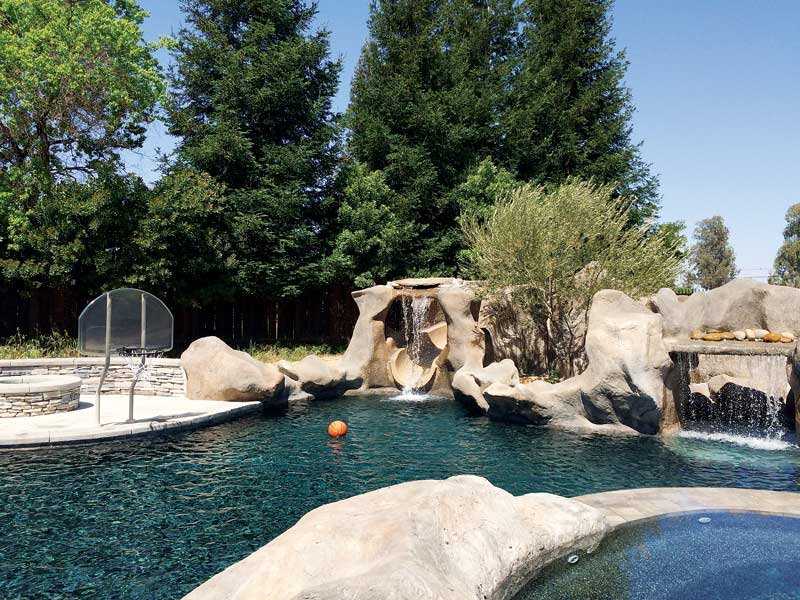 There is always money to be made anytime a pool contractor enters a backyard—whether opening/closing a pool, starting a new project, or taking on a renovation. One of the best ways to do this is to offer products that do not shutdown the pool for a prolonged period, but rather can be easily added in a few hours or even one day. Products such as new designer rails, ladders, sun-shelf seating and tables, basketball and volleyball nets, even slides, diving boards, wateaur features, lighting, automation, automatic covers, and pergolas are all items that can be installed quickly without affecting the customer's ability to use their pool this summer. As a result, these products provide the opportunity to increase profits every year.
Pool rails are all the rage
Ladders and rails are one of the fastest, most profitable products to add onto a pool. They provide an immediate makeover, but will not interrupt the customer's use of their pool. Rails and ladders can rust due to salt chlorine systems and make the entire pool area look terrible. Replacing these items with powder-coated or thermoplastic coated rail goods that co-ordinate with the customer's outdoor décor can improve the overall look of the backyard. Thermoplastic coated rails are salt pool safe. This procedure typically takes less than an hour with a return of approximately $200 per rail. Similarly, ladders may take an hour to replace with a profit of $300 to $400 per ladder.
New 'designer rails' are also available which provide a high-end look, but are just as easy to install. These products command a premium price and, as a result, provide higher profits. Designer rails are the fastest way to give a pool a facelift. That said, these products can be kept on service trucks and offered to clients while performing service calls.
Designer rails can help modernize the look of an older pool while still providing functionality and safety. Further, they can be installed into the existing holes of traditional rails, which helps make them an easy sale and quick to install. The perfect time to offer these rail options is during pool opening service calls.
Have a seat in the pool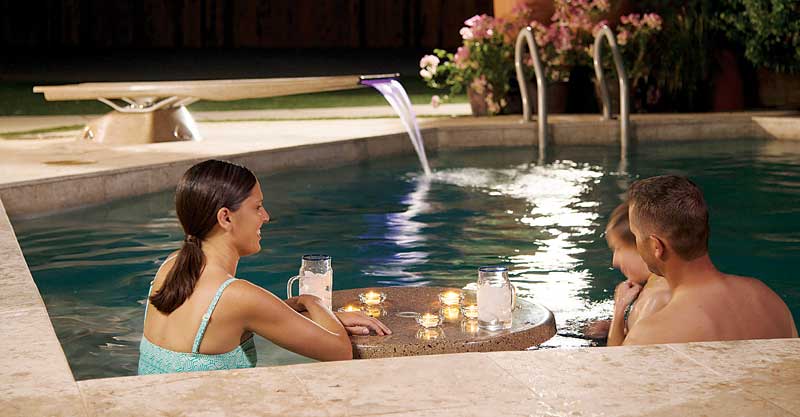 As the backyard living trend continues to grow, more homeowners are maximizing their pool investment. The advent of having a table and seats within the pool itself is another extension of this trend.
Jeff Kjelland, owner of Recreational Concepts in Oregon, Wis., agrees. "This year, we have prepped all of our new pools and renovations with anchors for tables and seats," he says. "It costs the homeowner very little money to sink the anchors in during the initial pool build and this way I know they will be calling me to install the table and seats within the next couple of seasons. We can make great profits while the pool is open, in addition to making the customer even happier."
Sports pool
Selling built-in basketball and volleyball nets are another great profit centre, as they are essentially another rail good. In-deck games look much more attractive than the plastic versions on the market, and setting the anchors for them is easy.
For example, the basketball net is a terrific product to sell once the pool is up and running. Many owners are not aware they have an option other than the plastic, water-filled hoop that needs to be replaced at the end of every season. Therefore, it is important to show consumers the option of a high-end basketball net that installs directly into their pool deck.
This can also be a great product to sell as part of a renovation project. The installation takes roughly one hour and, depending on the system installed, can return a profit of up to $350 per unit.
Including anchors for in-pool features as well as basketball and volleyball nets in the initial drawings presented to the homeowner—even if they have not expressed any interest—is a great idea. If the client is unsure and does not want one of these products initially, it is cost worthy for them to spend a few hundred dollars during the initial construction phase, while the deck is ripped up, so they can leave their options open for the future.