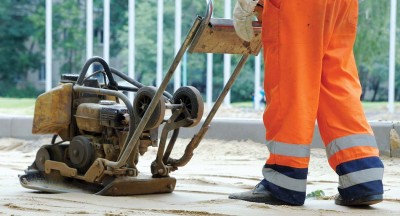 Compaction equipment and selection
Frequency and amplitude describe the motion of compaction equipment. Frequency is expressed in vibrations per second or hertz (Hz) and amplitude is expressed as half the distance travelled by the vibrating drum or base plate.
Machine types
Compaction equipment is generally classified into three machine types, each producing a different type of compaction effort: rammers, vibratory machines, and static rollers.
Rammers are distinguished by their low frequency (800 to 2500 blows per minute) and high stroke (40 to 90 mm [1.5 to 3.5 in.]). The stroke of a rammer is the height the ramming shoe or plate reaches from ground level while operating. The difference between ramming and vibratory action is rammers jump higher, but at a lower rate. The force of the impact is higher for a rammer. As a rule of thumb, rammers work well for clay soils.
Self-propelled rammer-plate machines use eccentric counter rotating weights to provide both the ramming force and travel speed. This machine can be used to compact clay soils and aggregate base materials. A handheld upright rammer (i.e. jumping jack) uses a spring mechanism.
Rammers can also be used for granular (sandy) soils if the soil being compacted is in a confined area (e.g. a trench). If the area is not confined, the rammer will push the granular soil to the sides rather than compact it. Rammer plates can also be used on granular materials in confined areas, or on open areas with extension plates.
Vibratory machines exert low amplitude and high frequency (2000 to 6000 Hz). Each rotation of the eccentric shaft in the drums forces energy into the ground. This vibration energy sets the soil particles in motion and rearranges them more tightly. They are suitable for compacting mixed dry soils and aggregate base materials.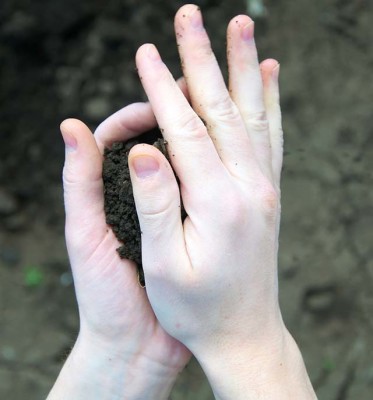 Soil compaction methods
A common error in compacting soil or base materials is completing this process all at once rather than in layers or lifts. A 50- to 75-mm (2- to 3-in.) thick lift of loose soil or aggregate should be placed and compacted, and then another loose lift is spread and compacted until the soil or base is brought up to the specified elevation. The material should be moist so it can achieve optimum density.
If the lift is too deep, the machine will need more time to compact the soil or base. The soil or base may never reach full compaction, especially if a hard layer is compacted at the top of the lift and the density is not consistent to the bottom. (Measuring soil compaction will be discussed in a future article on installation and compaction of base materials.)
Pay dirt
Accurate determination of soil types and achieving adequate compaction can save contractors time and money. In fact, failure to achieve adequate compaction is one of the most common deficiencies with the installation of interlocking concrete pavers. Although this activity may require more time and effort at the time of installation, it is generally much less costly than returning to the site to make repairs. The quality of workmanship and the finished product, according to experienced professionals, is the contractor's best sales tool.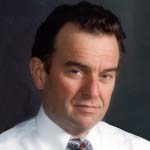 Brian Burton operates a multidisciplinary firm that specializes in website design and development, and technical business writing. The firm also assists companies interested in selling goods and services to governments and institutions. He can be reached via e-mail at brianburton1995@gmail.com.