By Ritesh Khetia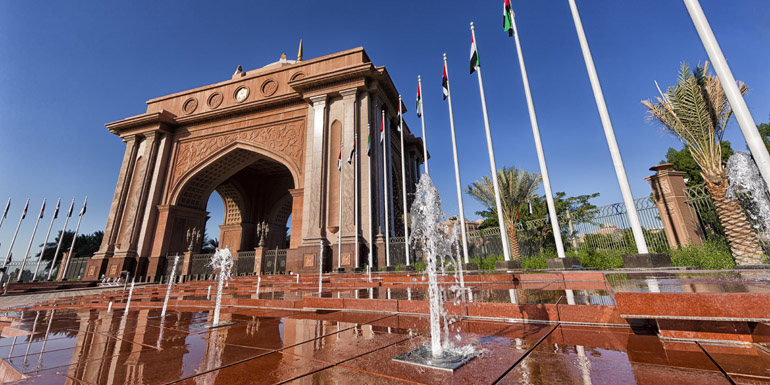 Already one of the Abu Dhabi's most luxurious districts, the Ras Al Akhdar quarter has been further enhanced with the installation of new water features for the Triumphant Arch at the Emirates Palace Hotel. The water features were commissioned by Abu Dhabi's Department of Transport as part of an ongoing initiative for upgrading the roadway and improving this important part of the city.
Emirates Palace Hotel is a world-renowned landmark in the United Arab Emirates (UAE), known for its mythical 'seven-star rating,' opulence, and exclusivity. Its fountains were manufactured by leading water feature specialist Crystal, based in Toronto, and with offices in the Middle East, and designed in tandem with Parsons' Dubai office in the UAE. The fountains were installed by United Technology & Trading Co., a specialist contractor located in Dubai.
This article takes and in-depth look at the water features' design objectives, its use of innovative technology to create spectacular effects and deliver energy efficiency, and the challenges faced when programming the fountains.
Location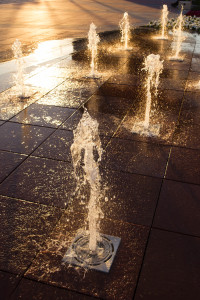 The 45- x 25-m (147- x 82-ft) fountains are located at the foot of the Emirates Palace Triumphant Arch. The road running through the arch serves as an exclusive entrance to the hotel for dignitaries, and is accompanied on each side with the impressive dry-deck fountains. In addition, the arch and the water features are adjacent to the busy 8-km (5-mi) coastal road, and are visible to passing cars and pedestrians.
Water feature design and effects
The objectives for the fountain project were:
To maximize the visual impact for people in vehicles and pedestrians;
To ensure daytime and nighttime use is maximized;
To create evaporative cooling benefits;
To reduce microclimatic temperatures;
To encourage pedestrian interaction with the water feature; and
To mask roadway noise.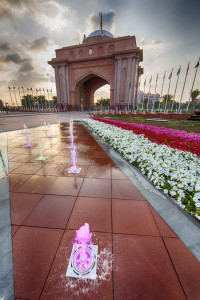 Many of these design objectives are achieved by the lively, sequenced shows of water and light. A total of 124 sequencing devices and innovative red, green, and blue (RGB) light-emitting diode (LED) ring lights (which look like a donut ring with a water nozzle in the middle) were used to create eye catching displays to ensure visual impact is maximized.
The pioneering technology incorporated into the LED lights is key to the fountain's spectacular effects. The devices can sequence water up to 10 times per second while ensuring it is always possible for a constant flow of water to come through the nozzles. Essentially, this means water effects can be constantly manipulated without having to abruptly halt water flow with valves. This also eliminates the 'water hammer' effect, created by turning valves on and off, which can damage the pumping and mechanical systems. Further, if severe enough, it can also create increased vibration, noise, and possible leaks. Therefore, a constant flow ensures water is readily available for sequencing, rather than having a slight delay associated with valve systems.
The RGB LED ring lights are also integrated within each sequencing device. Traditionally, LED lights would be placed outside the sequencing device and water nozzle to illuminate water as it sprays upwards. However, the equipment used for this installation combine the lights and sequenced water into one component for highly focused 360-degree water illumination.
Additionally, the RGB LED lights are capable of blending together to create an extensive palate of 16 million different colours. Each LED light can also be individually controlled and programmed with the use of an external digital multiplex (DMX) control panel. This enables individual lights to create separate colours, and to be dimmed or turned on/off individually to create dynamic animated light sequences.