Design and installation challenges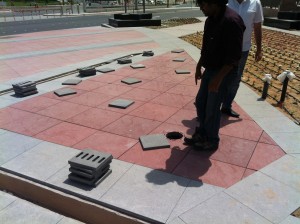 A number of challenges had to be overcome during the design and installation of the Emirates Palace Triumphant Arch water features. One main challenge was the fountains needed to be installed on both sides of the road that runs through the arch. However, there was no authorization to dig up the street due to a decree from the Abu Dhabi Department of Transport, which wanted to avoid disrupting traffic on the road as the surrounding area is quite busy.
Ideally, water feature shows should be programmed from a single equipment room and a single animation control panel to ensure the water and lights show is seamless. However, because the road could not be excavated or altered, this was not possible.
This issue was addressed by constructing two separate equipment rooms with individual animation control panels and reservoir water tanks for both segments of the fountains. Then, to ensure in-time sequencing of the water and light effects, the control panels were linked by a subtle cable that runs underneath the road.
Another challenge was choreographing the fountains' water and light shows. As 124 nozzles and LED lights were to be placed in a stepped design (at different heights), rather than in a flat conventional dry deck grid, it was difficult to know what different effects would look like. As a result, this took a significant amount of 'trial and error' with modern software to choreograph the right effects, and understand how they would look from many different viewpoints.
Let the show go on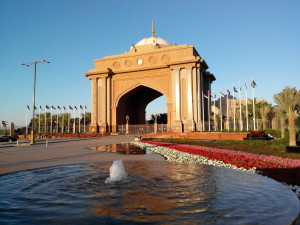 The new Emirates Palace Triumphant Arch water features are an impressive addition to the general landscape of this grand area of Abu Dhabi, and to the exclusive Emirates Palace Hotel entrance. They clearly demonstrate what modern water features are capable of in terms of theatrical shows and environmental principles. Water feature technology has developed substantially in recent years, creating significant design opportunities for landscape architects, developers, and other professionals designing commercial and residential waterscapes.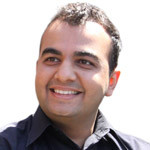 Ritesh Khetia is the director of overseas operations for Crystal Fountains Inc., which has operations in Toronto, United Arab Emirates, and Europe. He has been involved in a number of the company's wide array of high-profile projects worldwide and has contributed to a variety of industry publications. Khetia's expertise is derived from more than eight years in the water feature industry. He can be reached via e-mail at Rkhetia@crystalfountains.com.