Steal the show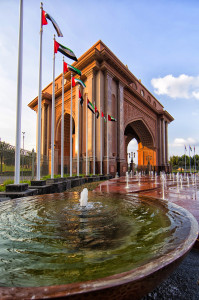 The Emirates Palace Triumphant Arch fountains have been programmed to put on choreographed three-minute sequenced shows every half hour. Four different shows are currently pre-set in the fountains' control panels, but new shows can be programmed at any time. This takes advantage of the sequencing devices and LED lighting's flexible technology, and ensures the water features display will never become repetitive.
The shows play in various modes during the day and at night, contributing to the fountains' overall cooling benefits. The sound of water rising and falling onto the fountains' granite surfaces also provides sufficient noise to mask traffic.
A further eye-catching design element of the water features is each nozzle is positioned on a series of sloping separate stone squares. The squares are positioned in a fish-scaled pattern and gradually step down. This gives the water features a real sense of depth, and allows the public to feel as though the entire water feature is dancing around them.
Dry-deck water features are usually flat, which can stop effects at the back of the fountain from being appreciated. However, stepped design and differing heights of the Emirates Palace fountains, ensures they are all the more striking for passersby.
Water preservation and energy efficiency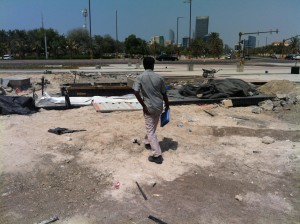 A prerequisite for this elaborate water fountain project was the feature had to adhere to the principles of Estidama— a building design methodology for constructing and operating buildings and communities more sustainably. Named after the Arabic word for sustainability, Estidama is an elective design methodology for environmental building and construction. It also contains a green building rating system called the Pearl Rating System that is used to evaluate sustainable building development practices in Abu Dhabi, similar to LEED in North America.
Key principles the fountains were required to meet included:
On-site recirculation of water;
Elimination of standing water such as reflective ponds and pools;
Taking measures to minimize energy use and evaporation;
Using minimum water volumes, yet still creating effects; and
Embracing sustainable energy principles.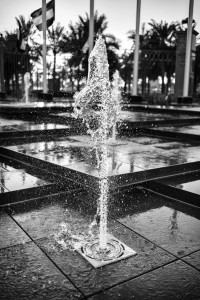 Water is a precious resource in all parts of the world, but particularly so in the Middle East, a region that is largely irrigated desert where rainfall is scarce. Therefore, careful planning was required to ensure minimal amounts of water were wasted by the fountains.
In keeping with the Estidama principles, an innovative water recirculating system was designed. As soon as water hits the ground, the system immediately drains the water, chemically filters it, and sends it back to the fountains' underground reservoir tanks, where it is pumped back through the system. This means water is only lost through evaporation. The fountains were specifically designed as dry decks with no pools to ensure water evaporation was kept to a minimum.
As the water and light shows are programmed to run for three minutes every half hour, this also minimizes the features energy use. In between shows, the water feature effects run in 'passive' mode. The fountains are still on, but with more subtle effects, where water is not sequenced at a fast pace or projected to high levels, which saves significant amounts of energy. This makes the water features more interesting, as viewers never know exactly when they will see the fountains fully in action.
Variable-frequency drive (VFD) technology enables the flexible water shows to be programmed. Essentially they act as dimmer switches which allow the water effects to be turned up and down according to how the shows are programmed, as well as save energy.
In addition, the DMX control panel enables the fountains' LED lights to be dimmed or turned on/off individually to create dynamic animated light sequences, but also to save energy. Late at night, when fewer people are around, the water feature effects are significantly 'dimmed' to save energy. Regular, less energetic water shows also help minimize water use and evaporation.