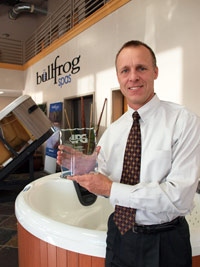 Bullfrog International, a manufacturer of hot tubs in Salt Lake City, Utah, was this year's recipient of the Independent Pool Group's (IPG's) 2011 Supplier of the Year Award.
The award was presented to the company at the buying group's annual conference this December. Bullfrog International, also known by its brand, Bullfrog Spas, attributes its patented 'JetPak' technology and effective support team as key factors to winning the award.
"We couldn't be happier," said Danielle Lavallee-Wasson, Bullfrog's international sales director, who was on hand to accept the award, which is voted on annually by IPG members. "To put this award in perspective, you have to understand that we sell to less than 50 per cent of the IPG dealers, which means many non-Bullfrog dealers also voted for us."
In 2010, Bullfrog was the recipient of the IPG's President's Award in recognition of the company's service and value to the group.