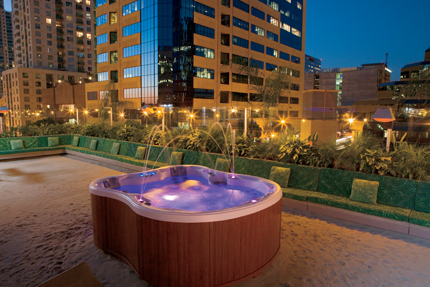 Jacuzzi Group Worldwide, parent company of Jacuzzi Hot Tubs® and Sundance® Spas and ThermoSpa Hot Tub Products in Chino, Calif., has expanded is hot tub and swim spa offerings with the acquisition of Dimension One Spas.This agreement follows Jacuzzi's purchase of ThermoSpa last summer (see PSM Online, June 14, 2012), and similarly, Jacuzzi will welcome Dimension One employees, dealers, suppliers, and hot tub owners to the company.
"I am excited about the opportunities the Jacuzzi Group ownership means for the entire Dimension One family," said the company's founder, Bob Hallam. "The combined strength of both companies will enable greater growth for the Dimension One business and its dealers."
Jacuzzi North America president, Bob Rowan, said the distinct designs and innovative features of the Dimension One product line makes the company a great fit with Jacuzzi.
Vic Walker, the former Dimension One Spas' product design manager, who is now the product design and marketing manager at Custom Molded Products (CMP) in Newnan, Ga., said the deal is great for both companies.
"They are a good match, and the marketing that Jacuzzi can leverage will help the Dimension One brand tremendously," he added. "On the flip side, now Jacuzzi has one of the top swim spa lineups and the exclusive Bay Collection models."
As part of the acquisition, the company's name will change to New Dimension One Spas; however, it will continue to function as a separate business with most of its existing operations remaining at the current Vista, Calif., location.