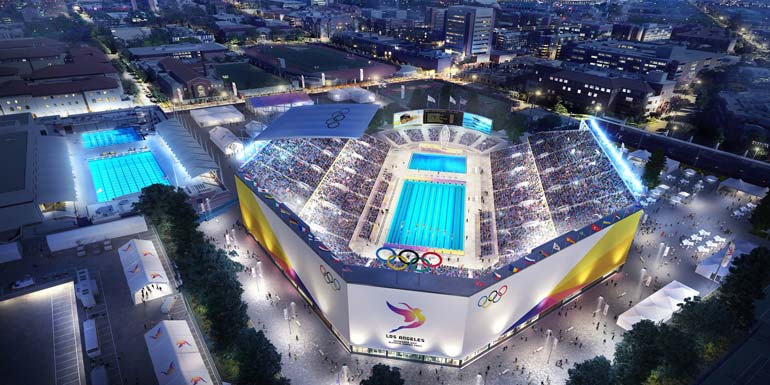 Renderings of a modernized LA Memorial Coliseum and state-of-the-art temporary aquatics facility on USC's Dedeaux Field were released by the Los Angeles 2024 (LA 2024) bid committee to demonstrate its commitment to delivering world-class sports facilities with minimal cost and construction.
"Our goal with all of our venue choices has been first and foremost to deliver an excellent field of play and the perfect conditions for the athletic performances of a lifetime. After that, we have tried to create an interesting blend of ultra-modern venues and upgraded iconic sites," says LA 2024 chairman, Casey Wasserman. "We are grateful for the feedback we have received from all of the international sports federations. Their insight has been invaluable in helping us optimize our venue configuration, and every adjustment we have made has been a significant upgrade."
Working with Los Angeles-based architecture and engineering firm AECOM, LA 2024 will use fit-out techniques to allow for temporary transition from football to athletics and back. Temporary stadium construction and sports entertainment will also enable LA 2024 to transform USC's Dedeaux Field—home of the university's baseball team—into an elite, purpose-built open-air swimming venue. The adjacent training venue will be the two pools at USC's Uytengsu Aquatics Center, site of the 1984 Olympic swimming competitions, giving swimmers and divers at LA 2024 the opportunity to train in an Olympic venue.
"As a swimmer, I'm incredibly excited about being able to offer athletes the chance to perform in the most state-of-the-art competition pool, but also train in an Olympic standard pool," says LA 2024 vice-chair and director of athlete relations, Janet Evans. "Both our track and field and swimming venues show the depth of quality sports venues we are lucky enough to have at our disposal here in Los Angeles.
The aquatics venue was earlier proposed for Exposition Park's new Los Angeles Football Club Stadium. As part of its planning process and in consultation with international sports federations, LA 2024 will continue to consider venue adjustments prior to submitting its final deliverable to the International Olympic Committee (IOC) in February 2017.