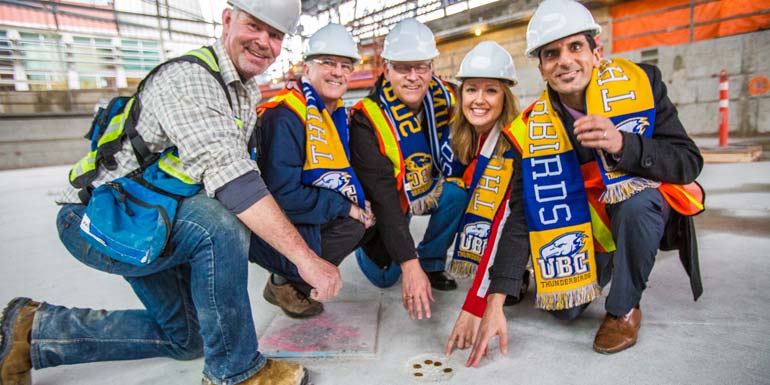 In keeping with the classic Canadian tradition of burying one-dollar coins in the playing surface of venues that stage international sporting events, members of the University of British Columbia's (UBC's) championship swimming program were recently on hand to bury five 'Lucky Loonies' in the floor of their new aquatic centre.
UBC Athletics and Recreation recently announced the roof on the new state-of-the-art $39 million UBC Aquatic Centre is completed. Alumni, coaches, and executives of the swimming program also took time to recognize the construction crew who has been on-site since August 2014.
"The new aquatic facility will not only be the home of the UBC Thunderbirds varsity swimming programs, and a great amenity for students, but will also better service the needs of residents and the growing UBC community," says Kavie Toor, director facilities and business development with UBC Athletics and Recreation.
Construction of the new facility will be completed in late fall 2016 and will feature a 10-lane, 50-m competition pool, an eight-lane 25 m pool with diving boards, and 30-person hot tub. The facility is also being outfitted with sauna and steam room capabilities to be completed at a future date.
The 'Lucky Loonies' will bring the Thunderbird and Canadian swimmers good luck as they look to continue their success in the pool. UBC swimmers have raised 34 Canadian Interuniversity Sport (CIS) championship banners between its women's and men's teams.