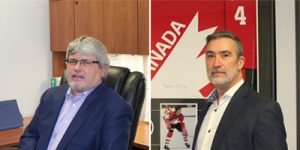 Aqua-Tech Sales and Marketing Inc. (Aqua-Tech) has initiated two executive management changes, according to chair and founder Bill Palamar.
Darryl Singleton has been named president. He has more than 16 years of senior management experience, including a decade of strategic development and plan execution with Aqua-Tech. Singleton, who has been with the company for 27 years, also served as the national sales manager.
Chris Neilson has been named vice-president of operations. Neilson, who began his career with Aqua-Tech 24 years ago, has many years of management experience as the accounting manager, and for the last eight years, the operations manager.
"These structural manoeuvres provide integral cohesiveness and corporate directional clarity for the organization to foster continued growth moving forward," said Palamar. "Each of these individuals has dedicated the majority of their careers to moulding, influencing, supporting, and growing Aqua-Tech Sales and Marketing Inc. into the organization it has become today."