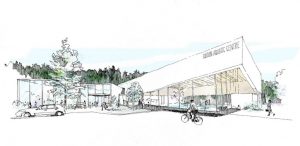 The Columbia Shuswap Regional District (CSRD) will allocate 50 per cent of its $1.7 million Whitetooth Ski Hill Legacy Fund towards a proposed indoor aquatic centre in Golden, B.C.
According to a report by The Golden Star, the board of directors also assigned $550,000 of its Economic Opportunity Funds (EOF) for 2022 and $325,000 from its Golden and Electoral Area A EOF for both 2023 and 2024, to use towards construction of the facility.
This is the second time in two months the board has voted to fund the project. The report states $496,417 was previously allocated from the sale of the CSRD's portion of the Golden Visitor Centre property.
The CSRD has conditionally committed more than $2.5 million towards the project, which is estimated to cost approximately $35 million. The money provided will be used for grant applications to help obtain additional funding to build the aquatic centre.
Town council approval is needed before the funding plans are approved. The referendum on whether or not the facility will be built will be held on Oct. 15.
According to the technical briefing from hcma Architecture + Design, more than $1.3 million in repairs and replacements will be required by 2026 for the current outdoor pool, which was built in 1978.