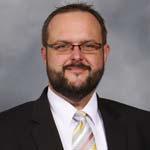 Fox Pool Corp., a manufacturer of package pools and vinyl liners in York., Pa., has named Eric Gohn president and COO of the Fox Pool Group, which includes Fox Pool Corp., Pen Fabricators, and Fabcote brands of products.
Gohn has been with the company for 25 years, most recently serving as the vice-president of sales and marketing for the past five years. In this position, he was responsible for sales of all brands worldwide, as well as the group's marketing and customer service.
"Eric's 25 years' experience in all facets of the company's operations has prepared him to assume the leadership position," said Jeff Kurth, CEO of WEXCO, the parent company of Fox Pool Group. "He brings a wealth of industry knowledge, dedication to customers, and the energy needed to continue the company's strong growth."
Gohn is excited to lead the company, which is celebrating its 60th year in business in 2018, into its next phase.
"Fox Pool Group continues to steadily grow by supplying high quality products to pool builders in the U.S. and Canada with continued expansion internationally," he said. "We continue to add new dealers and are excited to support our industry's growth."