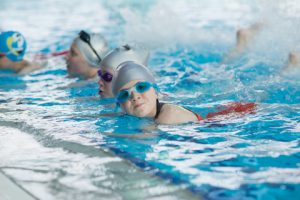 Councillors of the City of Kingston, Ont., deliberated late December 2022 whether to add more pools to the city, following a $16.5 million federal grant to Loyalist Township to rebuild a shutdown pool at W.J. Henderson Recreation Centre in Amherstview.
The City Council passed a motion asking staff to come back next year with strategies on enhancing relationships with partner agencies and estimates on the costs of building and operating more pools in Kingston.
According to The Kingston Whig Standard, Loyalist-Cataraqui District Coun. Paul Chaves, the author of the motion, said: "We pride ourselves on being a sports tourism community; we can do sport tourism in many different fields, soccer, baseball, anything on the ice. Hockey, curling, broomball. We've done pickleball, but one thing we can't do is swimming. There is no 50-m [164-ft] pool within the city limits where we can host tournaments."
Chaves pointed out how frequently constituents talked about how they were trying to register for swimming lessons online during the municipal election campaign.
"It's probably one of the things I hear about the most and it's probably one of the costliest things to add to the city," says Pittsburgh District Coun. Ryan Boehme, who was a supporter of the proposal to investigate options as a method of initiating the process of pool building.
He was, however, cautious as he said he did not want the process of adding pools to take 60 years.
Councillors had conflicted opinions, with those who were in favour of having more pools, and those who were in doubt because of the associated costs.
"There are two really important things to know about pools. First, pools are great. Second, pools are very, very expensive," says Kingston's Mayor Bryan Paterson.
Paterson suggested to bring this idea back into the discussion while strategic planning is done in the spring of 2023. However, he mentioned he was aware of the sense of urgency needed in accessing the fundings Loyalist Township received.
The pool in Loyalist Township had been closed for many years due to mechanical issues, but now with the funding, the pool will be rebuilt with an emphasis on enhancing its energy consumption and sustainability.